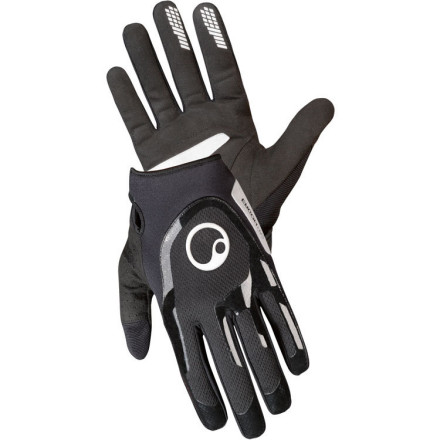 Ergon's gloves are designed to be coordinated with their grips, and these HA2 Gloves are a perfect complement for the GA series grips. Unlike, their wing-shaped grips, the GA grips are nearly round, more like traditional grips. They're designed, like these HA2 Gloves, for more technical all-mountain riding that demands greater mobility as you sit, stand, and shift your weight around on the bike to tackle the toughest terrain.
One primary difference between these HA2 Gloves and Ergon's other long-fingered offerings is the palm. On the others, the palm is quite thin since the grips offer such support for your hands. Here, Ergon designers placed thin padding in strategic areas to increase comfort, but not so much to cause distraction or loss of sensitivity. There's also a Kevlar insert on the outside of the palm to provide serious crash protection in the event of an unplanned dismount.
The HA2 Gloves have full fingers and enough stretchy mesh on the back to keep your hands from smoldering in warm weather. The key is the airflow through the mesh. The palms are also doubled in the high wear areas underneath the base of the fingers and across the palm. The design is such that when you reach for the bars, the palm won't bunch inside your hand and spoil the feeling for you. All you'll feel is the subtle contoured surface of your grips. The fit is stretchy and snug, just like we like it. And to make them easy to get on and off, there's a velcro adjuster on the inside of the wrist. Ergon uses a silicone print design that helps stabilize the gloves on your hands as well as providing abrasion protection to the outside three knuckles.
The Ergon HA2 Gloves are Black and are available in six sizes from X-Small to XX-Large. They're ideal for use with Ergon's GA series of grips.