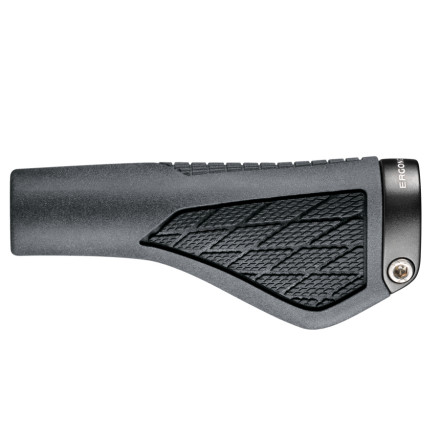 'Ergo' isn't just for mattresses and La-Z-Boy recliners, and the Ergon's GX1 Pro Racing Grip is proof. A slightly slimmer wing and lower grip diameter distinguishes the GX1 Pro from its sibling the GP1. Designed to disperse handlebar vibration during long rides, the GX1 Pro Grip follows the contour of your hand so your digits continue to respond quickly when you need them most.
4mm Allen key for easy installation
End plugs and mounting instructions included
What do you think about this product?
Have questions about this product?
Just not for me, may be for you
I tried to like these. I really did. I built up a rigid 29er and put these on because I hoped they would save my palms and wrists some wear and tear. And they did...at first. They lock your wrists into a particular position and are great on climbs. They spread out the impact on your palms and for a while make descending better on a rigid. Once you get them dialed angle-wise in they seem much more comfortable than regular grips.

After a long descent, though, it just becomes painful, because it's harder to hang on to these. That wing on the back is right where I would be gripping with end end joint my last three fingers, so instead of allowing my really wrap my fingers around the bar if forces me to crimp on a larger surface. After long descents or on really long rides this just pumps out my forearms and causes everything below my elbow to turn to painful jelly. It's also a pain when climbing out of the saddle, because your wrists rotate forward and it's harder to grab the bar. I thought it was because my fingers weren't in shape; I built up to longer rides and even did the Tahoe Sierra 100 on these (not to mention the rock climbing I do). In the end my hands just never adjusted and my forearms were always painfully pumped out after long rides with anything technical or bumpy.

I have pretty big hands, that may be my problem. I know some people swear by these things and love them, and I know people like me who tried to like them and just couldn't get into it. Eventually I went back to ODI Rogues and have been much happier since. I think it depends on your hand size and shape combined with riding setup and style. You may love them, you may hate them. I also tried the GP1 grips because the GX1 is pretty firm and the GP1 is softer, but the wing is thicker on those and I liked them less.

As far as quality goes, they are built well. I wish there were a clamp on the inside as well for more peace of mind on carbon bars, but the outside clamp holds reasonably well. They wear at a reasonable rate. I had no problems with quality at all.
I am into my second pair of these, after just plain old wearing out the first set. They are the great mix of size and support. They don't get in the way on tech sections, and the hands love them after hours in the saddle. It's really a must have if you have any discomfort with regular grips, or are looking for something a tad smaller than the typical Ergon grips.
These grips are a bit smaller in size than the regular Ergons. I have had these on my AM bike for about 2 years now and would not trade them for anything. They really save your hands on the long rides and they never get in the way on technical sections. My hands used to go numb after 30min to an hour with regular grips and since I put these on it has never happened once.