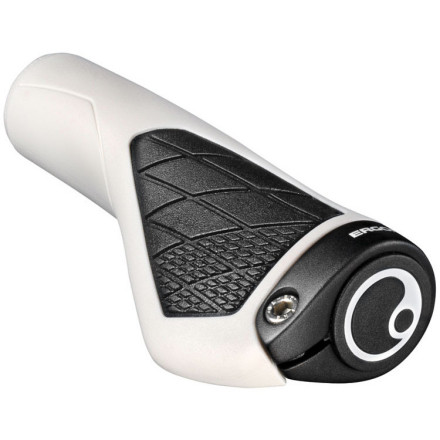 Detail Images
Ergon designed their GS1 grip shape as a perfect medium between their archetypical GP1 grip (the base shape for all GP, GC, and GR series grips) and the race-inspired GX1 grip shape. With the earlier designs on either end of Ergon's size and shape spectrum, the GS1 Leichtbau Grip falls right in-between, offering a shape that works to reduce pressure on your Ulnar nerves and to ease wrist strain while retaining the light weight characteristic of the GX1.
We feel like this happy medium will quickly become a favorite for anyone looking to increase their hand comfort on their mountain bike. The wing shaped support is exactly where many glove makers are stitching on extra padding these days, and it provides more support for your hand. You'll perceive less pressure on your palm because of the increased surface area, and the soft kraton rubber gives just enough and allows supreme grip, even with sweat soaked gloves. You'll see a textured rubber insert on the top of the grips. Ergon uses a softer rubber compound here to help dissipate vibration and jolts on the trail.
The angle of the grip is important and worth the time to find the position that works best for you. The alloy clamp at the end of the grip should be tightened to a maximum of 5 Nm in order to avoid handlebar damage once you find the right angle. Ergon has found that most people, except those who have huge mitts, go with the small size. The smaller diameter is lighter, a bit stiffer, and easy to grab. Those with big hands and those who spend long, long days in the saddle might want to lean towards large.
The Ergon GS1 Leichtbau Grip is available in White and Black and comes in two sizes -- Small and Large. The GS1 is 132mm wide, including the clamp assembly; and it's 54mm front to back at the wing. The set comes with bar plugs and installation instructions.
Choosing the correct grip (PDF)
Choosing the correct size (PDF)
Ergon weight comparison (PDF)
Ergonomic 'wing' design relieves fatigue-causing stress on pressure points in the palm
Two sizes for different hand sizes
Leichtbau direct control rubber reduces weight significantly and damps vibration
I don't wear gloves while riding, take too much time in transition:) I was looking for a grip to save my grip. These work great.
THE grips
Familiarity:

I've put it through the wringer
This ones looks awesome on my 29er. This ones makes the ride even better!
must have!
Familiarity:

I've put it through the wringer
these grips make it so you can ride longer and feel better on you hands, they are a must have when you go up into the mountains, you will be able to ride longer and feel so much better when you get done with your ride!
I tried the large GP1 grips starting out. They were ok on long flat rides, but when I actually have to steer the bike, they were just too big. I have the small size in these- I wear size XXL gloves, to give you an idea. The small size give a much better grip on the bars, even having big hands. They still give substantial relief from hand numbness over a round grip. The large grips didn't provide any more relief for being larger as the size difference is mostly in the round part, as someone else said.
No more numb hands
Gender:

Male

Familiarity:

I've put it through the wringer
I bought these because my pinky and ring finger were going numb during longer rides. They worked for that and are just all around comfortable. It takes a bit to dial in the correct angle, but once you get it, its great.
These are perfect for XC, not as light as some silicone/foam style grips but exponentially more comfortable. The one down side is I can only wrap my thumb and pointer finger all the way around the grip (the wing blocks my other fingers) so for that reason i wouldnt put these on a bike designed to tackle nasty downhillish stuff. But for the xc rides nothing beats it.



i have the large grips as i like the thicker grip. (note the size isnt width or how big the wing is, its the diameter of the grip)
I love these grips. They're super comfortable and given a bit of relief on long climbs. I find I can rest my palms and rest my grip.



I've also used the Ergon GP1s and found the lighter GS1 to actually be more comfortable for me.
The ergo design of these will change your ride for ever! Riding with simple round grips are not near as comfortable once you make the switch. When you think about it, we are making three points of contact with the bike (Seat/pedals/grips), yet the advancement in grip design has been very slow in coming.

I use the small size and I am 5'7". I had a pair of the large at one time, but found them a little to big for my grip, which meant sore hands, so choose the size wisely! I've had the Ergon GA1's as well and seem to like these a bit better.