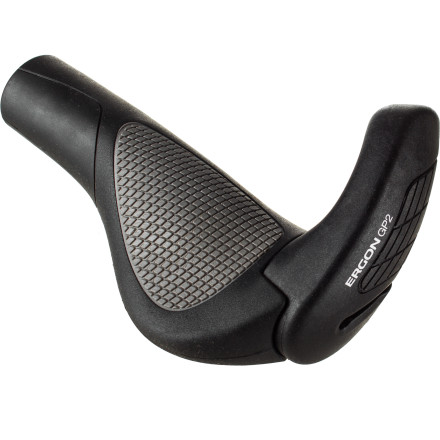 Detail Images
Crush the pack with the Ergon GP2 Grip. The GP2 spreads rider weight out over a broad area, which reduces the weight on pressure points that cause your hands to tire and go numb , and the small, lightweight, integrated bar-end reduces fatigue so you can stay fresh in the saddle longer and walk all over the competition.
Please note: when mounting Ergon grips with integrated bar ends to carbon fiber handlebars, it is necessary to confirm that the handlebars are both rated for use with bar ends and are able to accommodate 6-8 NM of clamping force. Most carbon bars are not designed for use with bar ends, which can result in structural failure if applied.
Broad 'wing' area evenly distributes weight for reduced fatigue
Integrated bar ends provide multiple hand positions and give you more leverage for climbing
4mm Allen key for easy installation
End plugs and mounting instructions included
I just ordered these but now looking at the page here, and reading the comments on your product page on Amazon, I am confused. You have two separate images shown. Two are for the shorter grips that work with twist shifters. The middle image is for a longer grip that works with trigger shifters.



So can you please confirm is it the longer version or the shorter version that you are selling (and that I ordered)?



Thanks.
These are the grip-shift style. The trigger shifter style we stocked are sold out currently.
Would this work with an XX-1, or is this a dual-gripshift set?
Hey Aloha Steve! Unfortunately, this isn't a grip shifter or a shifter of any sort. This is just a handlebar grip, but it should work seamlessly with the XX1 bar-mounted trigger shifters.
One if the pics looked like this grip set might work with my XX1 grip shift rear only. Shorter right grip. Longer left grip.
Steve, did you order these in the end? If you did, I'm curious if you received the shorter versions for twist shifters, or the longer versions for trigger shifters. Seems there's lots of confusion about this product both here and on Amazon.
Good grip, comfortable. However just snapped the bolt off inside it, which is why I am on here today looking for replacements. It started to slip on my bike, tried to tighten it and...SNAP! Would be MUCH better if it had two secure points to keep it from slipping. Really a no brainier if you think about it. Extra leverage of the bull horn needs two secure points.
Is this product consist of single or...
Is this product consist of single or both(right & left)?
All Ergon grips come as sets; both left and right grips. Disclaimer: I work for Ergon USA.
is the bar end detachable?
is the bar end detachable?
Yes, but it is needed for securing the grip in place. The barend is the clamp. The barend is needed to use this grip safely. Disclaimer: I work for Ergon USA.
put these on to replace my stock grips. They make a huge difference. My hands are able to relax and I feel like I can grip longer and stronger. Also nice to have the bar ends built in although they are not much more than another place to rest your hands. overall I feel the ergo grips make a big difference.
what is the difference between the Ergon...
what is the difference between the Ergon GC2 ($42.95) and the GR2 ($49.95)??? and I wear a med. glove size... what grip size should I buy - small??? or large???
Best Answer
GC2-283,5 g
GR2-S Leichtbau Carbon (and Team Edition)-234,6 g
The GR2 uses a new lightweight rubber and a newly designed bar end and is part of the RACE line with a longer bar end length.
The GC2 has a short range of adjustment for the bar end angle if you like to tweak this. The grip is the same shape as the GR2. I run the GX1 and prefer the larger size over the small sizes as it provides a larger platform for my hands to rest when climbing. I think unless you have a small hand the larger platform will be more comfortable.
Either way you cannot go wrong with the Ergon grips. They really shine when climbing and on longer rides when you are looking for different hand positions throughout the day.