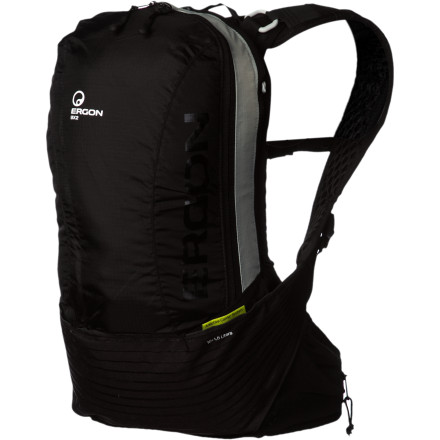 Detail Images
While Ergon packs have been known for their innovative Flink ball joint and semi-rigid exoskeleton support structure, this BX2 Backpack goes without in both cases. In designing the BX2, Ergon endeavored to make an ubërlight, yet fully adjustable backpack with a focus on fit and performance.
The BX2 is the lightest Ergon backpack and is just what we've been seeking, for those of us that live by the adage, "less is more". That said, it's not a minimalist design; you'll still get a fully featured pack bag. The heart and soul of the BX2 is the 4-position adjustable shoulder harness. Ergon designed it this way to offer enough vertical adjustment to accommodate a variety of torso lengths, providing a perfect fit for any rider. One neat detail is the self-adjusting shoulder strap attachment design. As you might guess, as torso length increases, so may shoulder width. For this, the BX2 Backpack relies on a sturdy Hypalon strap attached to a nylon D-ring.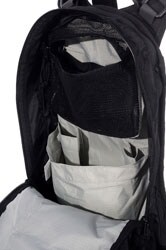 This system allows the shoulder straps to swivel freely through a certain range, enough to position the straps just where you want them for the best comfort.
The sternum strap is length and height adjustable so you can position it to your liking. Ergon includes a hose clip on one shoulder strap. It's designed to be removable/interchangeable if you prefer your drinking hose to lay over one shoulder or the other. One of the most notable design details is that the bottom of the shoulder straps are anchored to a trapeze panel that runs underneath the lowest portion of the pack bag. When you snug the straps in place, you effectively center and compress the load inside the bag. A secure load means no jiggling, a boon for the off-road rider. Ergon hits the mark again with the pockets on the hip belt. There is one on each side. Zippered for security, they can each accept gel packets, a map, or a phone. They're easy to reach when you need something fast.
The bag is divided into two main compartments. The outer has a pump sleeve and two zippered mesh pockets to help organize your smaller items. The inner compartment has a large bladder pocket, a buckled strap for securing the top of your bladder, another pump sleeve, and a large zippered mesh pouch. It's plenty roomy for stowing food, repair materials, and extra clothing. If you need more space, the bag also has a perimeter zipper that allows expansion of the main compartment. The trapeze panel forms a pocket, accessible on both sides. It's a perfect place to stow the included rain cover. And finally, the BX2 includes a removable bungee cord system that allows further expansion of the pack or simply compression for the load inside.
The Ergon BX2 Backpack is available in Black or Team Edition Green and comes in two sizes -- Regular and Large. We recommend using an Ergon bladder (not included), but any type will work inside the BX2 pack. It has an 8 liter capacity (9.5 when expanded).