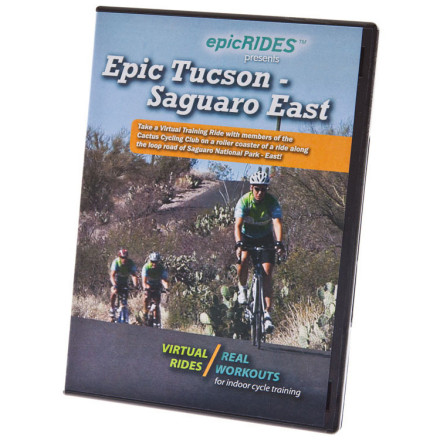 Cold weather got you down? How about a training ride in the desert southwest where it's warm and dry? Epic Rides takes you there with their Virtual Ride DVD Tucson Saguaro East. Along with a few members of Tucson's Cactus Cycling Club, you'll wind through suburban Tucson before tackling the Loop Road in Saguaro National Park East.
Epic Rides DVD footage is filmed with 16:9 widescreen format in mind so the video quality will be at its best on your flatscreen TV. Along with the footage of the ride, you get an onscreen dashboard that gives you a few bits of essential information -- a training zone indicator, average grade, a countdown timer, and a terrain profile. The dashboard doesn't distract you from the ride, and it gives you just enough info to shape your workout to mirror what the riders who actually rode the smooth ribbon of asphalt through the sage and giant Saguaros experienced.
The Virtual Rides DVD Tucson Saguaro East offers a downloadable route map from MapMyRide that you can use to ride the exact route if you're ever in the area. You'll also be able to download a training guide to get the most of your workout. If you train with a powermeter of some sort, Epic Rides even offers downloadable power profiles that you can use to attempt to match the riders in the program watt for watt. 45 minutes. Difficulty: Moderate.