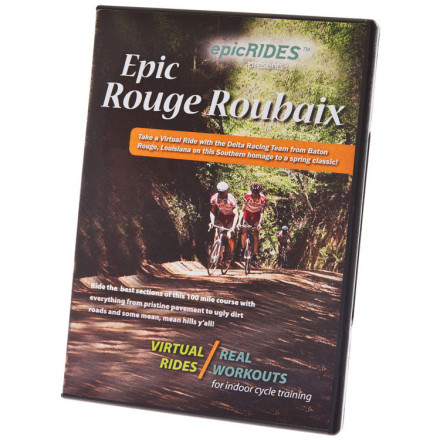 Rouge Roubaix is a race that many of us here in the South Central US have done at least once. And those who haven't want to. You can ride the best parts of the course along with the Delta Racing Team from Baton Rouge, LA in this Epic Rides Virtual Ride DVD Rouge Roubaix LA. You'll get to see how the race course alternates between smooth pavement and forgotten stretches of shady country roads.
Rouge Roubaix is also famous for its tough climbs. We're not talking Alpine passes here, just gut wrenching slogs up loose, gravel climbs riddled with braking bumps. You can consider this DVD to be recon for the important parts of the classic Rouge Roubaix route, and the best part is that you can ride it in the comfort of your own home.
Epic Rides DVD footage is filmed with 16:9 widescreen format in mind so the video quality will be at its best on your flatscreen TV. Along with the footage of the ride, you get an onscreen dashboard that gives you a few bits of essential information -- a training zone indicator, average grade, a countdown timer, and a terrain profile. The dashboard doesn't distract you from the ride, and it gives you just enough info to shape your workout to mirror what the riders who actually rode the Rouge Roubaix course experienced.
The Virtual Rides DVD Rouge Roubaix LA offers a downloadable route map from MapMyRide that you can use to ride the exact route if you're ever in the area. You'll also be able to download a training guide to get the most of your workout. If you train with a powermeter of some sort, Epic Rides even offers downloadable power profiles that you can use to attempt to match the riders in the program watt for watt. 100 minutes. Difficulty: Very hard.