Free 2-Day shipping on orders over $50*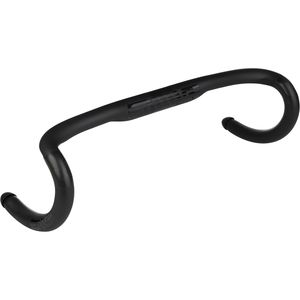 Free gift with purchase!
Road Handlebar
Details
Catch the fever.
You've been exposed to ENVE fever everywhere lately, first from the glossies, then your ride crew, and now the guy who beat you racing last week. Face facts: it's about time you give your racing bike a set of hoops that can match its energy. The Clincher version of the ENVE Smart System 3.4 Disc Wheelset still remains at the forefront of wheel design, just as it was when ENVE partnered with aerodynamic guru Simon Smart a few years ago to jump from a V-shaped rim profile to a U-shaped one. Mount a set of 3.4's to your new gravel grinder, 'cross bike, or road racing machine and join the long list of cyclists raving about the 3.4's futuristic efficiency.
ENVE and Smart concerned themselves with enhancing stability across the often-changing conditions you're likely to experience on the roads with the 3.4, aiming to lessen the chances of over-correcting in crosswinds. They used a U-shaped rim profile to create a stable, predictable wheelset that relies on a wider, shallower front wheel and slimmer, deeper rear wheel to reduce drag without sacrificing stability. Bred for racing, each wheel is lovingly shaped in carbon fiber, with the molding bladder carefully removed after construction to save weight and establish the kind of of stiffness and responsive handling that sets the 3.4 apart from lower-end carbon wheelsets.
Accelerating out of loose corners and popping over climbs ranks high among a list of things your racing hoops need to do well, and ENVE's meticulous molding process takes more than just rim profile into account to make sure its wheelsets are up to the job. The holistic process involves molding spoke holes, nipple seats, and valve stem holes in a continuous routing process for a wheelset devoid of any stress points or seams along small, but crucial points. Don't be surprised if the added stiffness inspires you to test the limits of your racing bike, knowing you have the added reassurance of disc brakes to lend the responsive stopping power you need to stay [mostly] in-control.
Disc brake-equipped carbon wheelset for road, gravel, or 'cross
Carbon fiber rim blends stiffness and low weight
Front rim establishes stability and predictable handling
Rear rim works to save watts and improve efficiency
DT Swiss 240 hubs deliver snappy engagement and longevity
Item #ENV000H
Tech Specs
Rim Depth
[front] 35, [rear] 45
Rim Width
[front] 26 mm, [rear] 24 mm
Recommended Use
road cycling, cyclocross, gravel road racing
Manufacturer Warranty
5 years
What do you think about this product?
Have questions about this product?
Stability and Extra Speed
Familiarity:

I've used it several times
I have been riding a Pinarello Dogma Hydro (disc brake version) for the last year with a Zipp Firecrest 303 disc wheelset. What I realized early on when riding on windy days that I was being blown around on the road. Kind of scary on fast descents! I wasn't sure if it was the windage caused by having disc brakes or it was the deep dish wheels. A few times the wind almost caused me to have a serious accident. So this caused me to start looking for possible ways to solve this problem. As luck may have it, I came across the ENVE Smart System 3.4 Disc Wheelset . Based on the product description and after talking to Competitive I decided though very pricey to take a chance and went ahead and purchased the wheelset. After two rides I can say that the stability is incredible in windy conditions. No more being blow around! Also to my amazement I actually picked up an extra 1 mp/h of speed due to reduced drag which I was not expecting. I thought at first this increase in speed was an anomaly so I decided to ride the exact route twice and then compare the results with previous recent rides of the same route while using the Zipp Firecrests. All data was collected using a Garmin 810 computer. The results was a 1 MPH increase.



The final analysis: VERY STABLE AND VERY FAST!



Quality: My rear wheel on the first wheelset was not true. I sent the whole set back to Competitive and they quickly replaced with a new one. I think the quality otherwise is very high.



To complete the set you might consider the following:



Clinchers:

Vittoria Open Pave EVO CG III, Black/Green, 700c x 25mm



Tubes:

Vittoria Latex Road Tube, size: 700x25/28



Disc Rotors:

Shimano XTR SM-RT99 Rotor - Centerlock SM-RT99, 140mm



Note: See my review on TRP/HYRD disc brakes and what you need to do to eliminate brake squeal and get maximum braking power.



http://www.competitivecyclist.com/trp-hy-rd-cable-actuated-hydraulic-disc-brake?ti=U2VhcmNoIFJlc3VsdHM6dHJwIGh5cmQ6MToxOnRycCBoeXJk&skid=TRP000A
What's the future compatibility of the DT Swiss 240 with thru axles? My current bike is QR, but what if I upgrade to one with thru axles? Can I just swap out the end caps? If yes, will it also work with 15mm axles?
Dt swiss is the most compatible hubs you can buy. You can easily swap out end caps for $40 to pretty much any road and mountain standard outside of boost.
With the use of tubeless rim tape is there any problem running these wheels with tubeless tires?
Hey Chad,



You should not have an issue running the ENVE Smart System 3.4s tubeless with the addition of some tubeless rim tape. Feel free to contact me directly with any more questions about ENVE Wheels or if you are interested in setting up an order.



Kyle

Expert Gearhead

klivingston@backcountry.com

801-736-4337