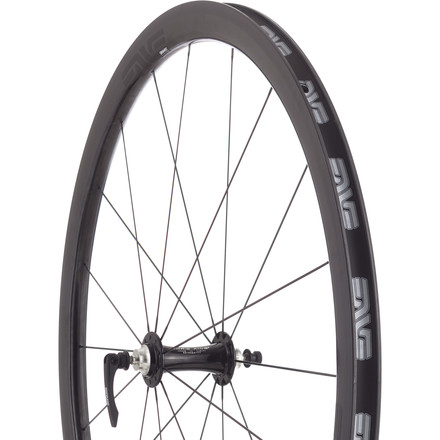 Colors

Detail Images
Description
Stable, strong, aero.
It used to be that if you wanted an aerodynamic rim that did any good, you had to run deep, V-profile rims that twitched at the slightest hint of a crosswind. No more. The ENVE Smart System 3.4 Carbon Road Wheelset is the product of a collaboration between ENVE and aerodynamics guru Simon Smart. It pairs a 35mm-deep front rim with a 45mm-deep rear rim to create some of the best on-bike aerodynamics paired with some of the surest handling we've encountered in any deep rim.
Part of the Smart System 3.4's secret lies in the rims' width —26mm wide in front and 24 in the rear. That width more closely matched that of the tire you're likely to mount on it, and creates a smooth, uninterrupted flow of air across the front and back of the rim, as it slices through the air. This width also aids in stability at non-direct wind angles (read: normal conditions).
ENVE's engineers were able to get some phenomenal drag numbers out of these designs — numbers that rival many competitors' 50 and 60mm-deep wheels. All that aero performance isn't worth much if you're breaking rims all the time, though, and that's where ENVE really sets itself apart. By making each rim in its US facility, ENVE is able to keep an incredibly close eye on production and can conduct immediate Quality Assurance testing to ensure the rims you're getting are up to its exacting standards.
ENVE's Smart System 3.4 rims are laced via DT Swiss Aerolite bladed spokes to DT Swiss' 240 hubs — a pretty nice match.
35/45mm-deep rims
Built in the USA
Drag numbers on par with competitors' deeper offerings
Designed in conjunction with aerodynamics guru Simon Smart
Outstanding Purchase! Very Satisfied!!!
Gender:

Male

Familiarity:

I've used it several times
A few riders in my weekend group have them, and they would not shut up about how much they liked them, so I decided to give them a try. I got the version with the Chris King hubs. I've already put 300+ miles on them, but it was sheer love after the very first ride. I had a set of 303 firecrest clinchers on my bike (outstanding wheels as well), but these are a little bit stiffer and a bit more responsive on climbs, and when you get off the saddle for a sprint. Incredible stability on x-winds too. The construction quality and appearance are a plus: the spokes are super tight, and have very even tension. I would highly recommend them. In my opinion, the extra $ for the Chris King hubs is worth it. I have other CK components and they are top notch!
Excellent descents
Familiarity:

I've used it several times
Most of my riding is in the mountains, averaging 4500 ft climb over 40+ miles round trip. I'm 5'8" and 165 lbs. I ride a carbon frame with a Shimano 10 speed drivetrain.

I was previously riding the Enve Classic 45's, which were a great wheelset, except mine had DTSwiss 350 hubs, which were noisy. I sold those and reverted back to Mavic Kysrium SL, and the stability difference on the descents was very poor in comparison. I bought the 3.4s and haven't look back since. I have 25mm Continental Grand Prix 4000s tires. The robust front wheel has confidence inspiring stability. The crosswind effects are minimal, and I have never felt the bike sway in any way that required corrections. I lean into turns confidently and have hit close to 50mph on some stretches of the downhill. Perhaps I need to find windier conditions, but I'd say the wheels are doing a great job. They are mounted on DT Swiss 240 hubs, which are super quiet and roll with ease.
I'm considering a set of these for one of my Shimano equipped bikes. Down the road I'll probably switch that bike to Campy - would these need any redishing from Shimano to Campy in addition to the freehub part swap?
Freehub swap should do it!
tough wheels
Familiarity:

I've put it through the wringer
i have used these wheels on very unforgiving roads. every bit of the wheel is as it came. dont flap around too much in crosswind. climbing and descending is with ease
one of the best wheels available
Familiarity:

I've put it through the wringer
Rode these for the first time this last year and tested them out for about 3 months on a couple different bikes. Although a little heavier than the 1.45's that I had been riding they are incredibly quick uphill. Most of my riding involves going uphill so that is a big factor to me. Next is going back down the hill fast. I got right on these and felt completely comfortable at speed on a windy descent. Handling was phenomenal with the new wider rim size and makes me consider it to be one of my top 3 wheels. I would race/ride these any day of the week. I am a smaller stature rider and think that if you are not as weight conscious that adding a few grams and going to the 6.7 may be an option depending on your style of riding. You can contact me directly with any questions about these wheels or comparisons, I can also help you out on shipping costs - kylebrown@backcountry.com
Best wheels I've ridden. Period.
Familiarity:

I've used it several times
Buying a new wheelset of this quality is a commitment in money and requires the confidence that you're getting exactly what you want. These wheels continue to blow my mind! Every ride is a completely new experience on the same frame that I've ridden now for more than 10 years. These wheels are simply faster on the flats and on the climbs - both subjectively and objectively on Strava. Not only that, they brake, handle and roll better than any wheel I've ever ridden (apologies to Easton, Mavic and Zipp). The achilles heel of carbon rims has historically been stopping power and on these wheels (coupled with Enve gray, carbon pads) I have better braking ability and modulation than I ever did with my Mavic aluminum rims. Ditch the belief that carbon rims can't brake! Best wheels I have ever ridden in more than 20 years of riding experience. Period. Buy em!
Bunnyhop To Your Little Heart's Content
Gender:

Female

Familiarity:

I've put it through the wringer
ENVE Wheels -- the cycling equivalent of a Lambhorgini. We get it. We know it. We've had it pounded into our skulls by every reviewer on the World Wide Web. Those reviewers might have also mentioned the strength of the carbon that ENVE uses, the fact that they're an American company or even that ENVE is the original full-carbon component company. What might not have been pointed out, however, is that for the serious cyclist, components are an investment in peak performance. Just like you wouldn't gorge on cookies and ice cream for months before race season and expect to excel, riding anything less than the very best won't earn you that STRAVA KOM on your local pavement grind.



In all seriousness, the Smart 3.4 system isn't only lightweight, quality carbon that could probably withstand most bomb-blasts (and missed bunnyhops over parking lot curbs), but wheels that are stiff, responsive and that come with an unbeatable warranty of 5 years. Yeah, you read that right. 5 years. On carbon wheels? Ka-ching.



The wider, more shallow hoop profile on the front wheel creates a more stable riding experience while the slimmer, deeper profile on the rear rim helps with those pesky aerodynamics. Overall opinon? Kickass. Whether you're a professional athlete gunning for the podium, an off-season trainee looking for the best of the best, or a local hero looking to lose some grams and gain some fun (and Batman-like stealth), I highly recommend these wheels.



Curious as to how the bunny hop ended? Or why I love ENVE so darn much? Or how to buy a set of your very own with customized options? Call me (or email me). We'll chat. 801-736-6396 ext 4768 or abatty@backcountry.com.
Sweet wheels, bro
Familiarity:

I've put it through the wringer
Smooth, stiff, light, bomber. What else do you need? Yeah, they're pricey, but when dropping more than $2k on any other wheelset, why not get the best? I know the founder of company, I ride with the engineering manager, I've been elbow to elbow in sprints with the head wheel builder. Enve makes such an awesome product, right here in Utah. Its simple, these are some of the best wheels money can buy.
Stealth Bomber
Familiarity:

I've used it several times
As a Competitive Cyclist employee and bike racer, every opportunity to ride the Enve Smart System 3.4's is a real treat. (Check out the photo for a Merlin Extralight Featured Bike spec'd with these bad boys).



ENVE has put plenty of technical expertise and top quality materials to produce these wheels. Our write-up does a great job at diving into this tech, but for the simple minded (like me) I'll stick to how they actually ride.



The Smart System 3.4 has simply found rolling Nirvana: Stiff, agile and responsive under power, robust and stable at any speed or wind condition, and oh so quiet as they barely make a noise. Any ride on this wheelset is a tranquil endeavor. Braking surface combined with Enve's own brake pads is reliable, even in the rain, especially relative to other carbon braking surfaces I've been on the past.



This is certainly not a budget wheelset, but you're getting an absolutely premium cream-of-the crop product any time you purchase ENVE.



If you have any questions, I'd love to help you out. You can request me on chat, reach me by phone

(1.888.276.7130 ext. 4579) or get in touch via email at tjackson@backcountry.com.




man, I've ridden so many miles on flats
Familiarity:

I've put it through the wringer
And not because of the wheels, just because I flat and don't have (enough?) spares. So...sometimes you have to ride the flat tire home. Carbon on pavement, bad idea, but as long as you keep the tire on the rim, the wheels don't care at all. The reviews below state what we all know - the wheels rock, but what they don't tell you is how durable they are. 3 winters' worth of salt and slush riding and probably 100 miles of flat tires, by now, and the wheels have never been trued once. I'm wearing out the hub bearings on the DT240's before the rims.
Interview with Simon Smart
An interview with the brains behind the SES wheels.
Worth it!
Familiarity:

I've put it through the wringer
I've had my fair share of wheel sets, and while I think I would have a set of 6.7s in tubular form as a fun wheel set, it is hard to beat the versatility of the 3.4. Living somewhere with strong winds, it wasn't fun to ride on my previous Reynolds DV46ULs when it was blowing out. I loved the feel of those, especially hammering up our power climbs here, but then most 1100g tubular wheels feel awesome. I didn't want to hassle with that for daily use, so I kept debating what to get before deciding to spend the money and get the Enves. Having looked at Zipps, I was really close to getting the 202FC, but read of issues with the 2013 and previous year hubs. The Enves are stiff, relatively light, handle winds like a champion, and feel faster than the previously mentioned Reynolds. The brake performance has been awesome, and I am very happy with my purchase. It's also nice to know that the Enves are made in the USA and that they have their warranty should any issues arise.
Eggcellent
Familiarity:

I've put it through the wringer
Build quality A+, DT Swiss hubs - amazing, braking (with the ENVE Pads) is extraordinary. These are delicious wheels, treat them with respect or jump them off curbs - they will stay dead true and keep rolling. Confident, no fade braking from 50mph on 15% grades = spectacular handling and overall make for a safer ride :) If you can afford them, go for it :)
Awesome Wheels
Familiarity:

I've used it several times
I just replaced my Mavic Krysum wheels with these ENVE?s set, and I feel a total different bicycle. I reached 29 mph and kept this speed easy under medium windy condition. No issues with lateral winds and the drag has been reduced a lot.

They are not cheap but, the technology, quality, and the care behind these wheels you will feel on the road.
These are a very well made set of wheels