Free 2-Day shipping on orders over $50*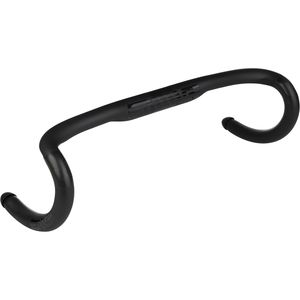 Free gift with purchase!
Road Handlebar
Details
All-rounder.
The ENVE SES 4.5 Carbon Clincher Road Wheelset with DT Swiss 240 Hubs has garnered a storied reputation as a jack-of-all trades that's as capable on soaring ascents as it is railing criterium corners and settling into a blistering pace off the front of the peloton. This version comes outfitted with ENVE's new textured Generation 2 brake track and pads for an added dollop of control to top off its versatility.
ENVE has made something of a signature out of its shallow front and deeper rear wheel pairings, and the 4.5s fall into the sweet spot between its more climbing oriented 3.4 and TT leaning 6.7 wheelsets. With wind tunnel and real world testing to back up claims that these wheels will hold steady in a wide variety of wind conditions, the 4.5s have laid claim to being the all-rounder wheel of choice for riders across the world.
While shaping and dimensions are the brand's calling card, ENVE's obsessively clean construction also sets it apart from the herd of carbon competitors. ENVE wraps carbon fiber continuously around a removable bladder to construct the rims, routing the fibers around each hole for a completely intact, precise design that boasts the highest claimed strength-to-weight ratio on the market. As an added step, ENVE removes the bladder for a final product that's both lighter and more structurally sound than rims that remain packed with molding material. While that extra step of removing the bladder adds time and expense to the manufacturing process, the end result is worth it.
The 4.5s come laced to DT Swiss' venerable 240 hubs, complete with their incredibly satisfying star ratchet system and indisputable durability. We also think it's worth noting that the 4.5s' generous interior widths grant your tires a lower rolling resistance at a lower PSI, so you can enjoy a ride that's simultaneously faster and more comfortable.
A versatile wheelset for nearly any road discipline
Light yet strong carbon fiber rim construction
48mm front and 56mm rear rim depth balance light weight and aerodynamics
New Generation 2 textured brake track improves control
17mm front and 18.5mm rear internal rim widths provide stable tire platform
Unmistakable rim shaping and clean carbon finish
Item #ENV0031
Tech Specs
Rim Depth
[front] 48 mm, [rear] 56 mm
Rim Width
(external) [front] 27 mm, [rear] 25.5 mm, (internal) [front] 18.5 mm, [rear] 17 mm
Claimed Weight
[front] 361 g, [rear] 399 g, [complete set] 1328 g
Recommended Use
road cycling, triathlon
Manufacturer Warranty
5 years
What do you think about this product?
Have questions about this product?
Money well spent
Familiarity:

I've put it through the wringer
I bought basically these same wheels (the 2015 model with a different brake track) in early March 2016. I have put just about 1,500 miles on them now. Bottom line is I love them! I had a pair of Mavic Ksyrium Elites Clinchers. I had long planned on investing in a pair of carbon clinchers. After a lot of research I settled on the 4.5 SES Enve wheels. I immediately could tell the difference on the first ride. It took much less effort to hold speeds over 20mph. It just seems that once they are up and spinning at a decent speed they are very easy to keep spinning. I was a little worried how cross winds might affect these wheels and I have noticed practically no effect from crosswinds and I have ridden on several 20+ mph wind days. These wheels just want to spin and spin and spin. I can't compare them to a bunch of other carbon clincher models but coming from alloy clinchers there is no comparison. I was telling someone the other day that I'd rather spend the money on a set of these wheels than upgrade a bike. I don't have any mountains around me so I don't know how the 4.5s are on long climbs but I have done some small climbs in the Ozarks and lots and lots of rollers and I think they have performed great on these. Overall I would guestimate with the same perceived effort I can ride about 1 mph avg. faster over the course of a 30+ mile ride. It's not scientific of course but that's my guess.

I have only ridden in very light drizzle or with the roads still a little wet and I haven't felt the braking is a problem at all. Even on a few descents I have done I felt very confident in the braking and I understand the model now available has been improved. I can't speak to how they do on a really steep and curved downhill descent. However, very light rain/drizzle hasn't been too big of a problem. You just get a little bit of a squeaking noise when damp or wet.

If there is any downside which is probably true of any carbon clincher is you do have to be careful with potholes, etc. I have had a few more flats on these than my Ksyriums.