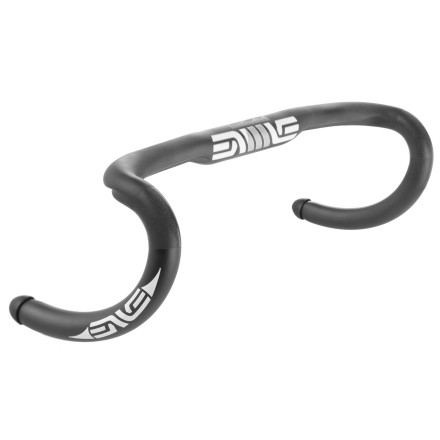 Colors

Detail Images
Enve is easily the most sought-for name in carbon. Known for their prowess in lightweight design, Enve has revolutionized the field of carbon engineering in a short amount of time. The Enve Road Handlebar is the only road handlebar in Enve's impressive catalog of components, for a reason: perfection. At a svelte 205 grams, the Road Bar is stiff, comfortable, and so gorgeous that you won't want to wrap them. The Enve Road Bar is what you get for the bike that has it all.
In creating the Enve Road handlebar, Enve didn't incorporate bizarre angles and shapes in the name of the industry buzzword de jour, 'ergonomics.' Instead, it simply made a bar that works. With a 144mm drop and 85mm reach(traditional), or a 127mm drop and 79mm reach (short and shallow), every contour of the Enve Road handlebar is designed to fit the hand. The bar shape permits custom brake lever placement and drop positions, and features recessed cable routing. The Road handlebar also incorporates a sophisticated pair of integrated bar ends. With its 100% handmade carbon fiber design, the Road handlebar is both lightweight and exceptionally rigid.
The Enve Road Handlebar is available in three sizes from 40cm to 44cm. Each size is available in a Traditional version or a Short and Shallow version. The Road handlebar is available in the color Black, and is only compatible with 31.8mm clamp diameter stems.
Sweet bars
Familiarity:

I've put it through the wringer
I will never use another bar!
Love them...
Familiarity:

I've used it several times
Just installed these along with an Enve stem on my Pinarello ROKH. I never really cared for the flat top profile of the Most bars that came on the bike. The short and shallow drop on these is perfect and much more comfortable. Love the slightly oval profile of the tops, much more comfortable for me than the flat top bars. The finish is first rate, the integrated bar end caps ensure a nice clean installation of the tape and the cable routing is well done. I've found they do eliminate a lot of the road buzz that was coming through the original aluminum bars, so I'm very happy with these on every level. A top rate product...wouldn't change a thing (although a lower price would be nice!)
YET ANOTHER PERFECT PRODUCT FROM ENVE
Familiarity:

I've put it through the wringer
ENVE has long since become my favorite bike company. American designed, manufactured and sold (in UTAH), by cyclists, for cyclists. Obviously, ENVE is best known for their wheels but don't nap on their quality carbon components. I have owned several road bars...everything from aluminum to carbon and the ENVE bars are THE BEST I have touched, ridden and/or owned. It starts with the bend. Obviously, this is personal preference but I prefer the short and shallow. Next, the integrated bar ends are a nice touch that makes your bar tape disappear. Finally and most important the ride! They are LIGHT, STIFF but yet compliant. They mellow out the rough stuff but remain firm on tough, out-of-the-saddle efforts. I am 5'11" and 170lbs and run a 42" and after approx 4000 miles on them, I feel it is the perfect width. I love these so much on my BMC Mike Nelson (ext 4076) helped me build that I insisted we included the same bars on my recent Niner BSB. These are not cheap but like I always say about ENVE products: if you can afford ENVE, you can't afford to not ride ENVE!!
Great handlebar
Familiarity:

I've used it several times
These bars are expensive, and I debated about them for a while. I'm glad I decided to go for it. By the specs, they are similar in dimension to other compact bars, but there are some key differences. First, the vibration dampening effect is quite noticeable. (I ride a lot on gravel.) Second, there seems to be a very slight slope to the bars (i.e. not perfectly horizontal on the top) that seems to make my positioning feel very natural no matter where I place my hands. Finally, these seem to run slightly wider than other bars of the same spec, which I like.
Are these bars good for Heavier riders
I weigh 125+Kilos/280+Pounds, is this a good bar for heavier riders
Best Bar I've Ever Ridden
Gender:

Male

Familiarity:

I've put it through the wringer
I've been fortunate enough to own several carbon bars, and several really good ones at that. Previously, ZIPP Countour SL bars were probably my favorite. That all changed when I got my hands on an Enve handlebar and stem. Before even riding the setup, I couldn't help but notice that the finish was far superior to any other cockpit I've seen. The paint work is immaculate, and the tolerances for the stem/bar interface is snug but not tight. In terms of the ride, the bars are stiff and efficient, but dissipate road chatter fantastically well. There is a lot of buzz about deflection in bicycle magazine product reviews, and in most cases you are forced to choose between a more compliant bar with greater deflection to absorb bumps, and a stiffer bar with better power transfer. This is a no compromise option, which I suppose should be expected at that price point. The cable routing is nicely done, and the bar end caps are a nice flourish.
Can you use clip-ons with the bar?
Can you use clip-ons with the bar?
According to ENVE, the clamp area is 105 mm wide on these bars. If your stem is 40 mm wide, you would have just over 30 mm of clamping area on either side of the stem for aero extensions.
Light as a feather, strong as an ox
Familiarity:

I've used it several times
What a difference this made!!! Awesome handlebar, it really helped level me out and shed probably 6-7 ounces off of my bike weight. It is a little pricey, but if you got some extra cash and wanna update, I'd recommend this one for sure.