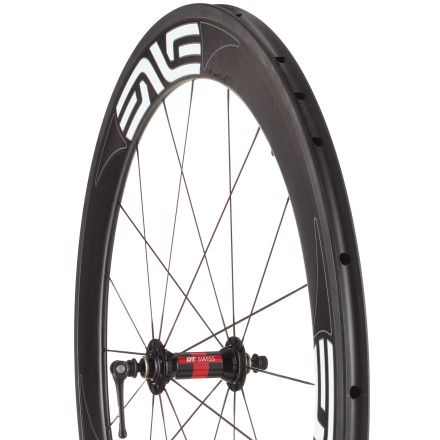 Detail Images
Some use it for cyclocross, others for time trials, but regardless, one thing can be said for certain -- the ENVE 1.65 Wheelset is insanely fast. In fact, the 1.65 is the ultralight iteration of what was already referred to as 'the founder's favorite.' So, at an even lighter, feathery 1258 grams and with a 65mm rim depth, you're gaining rigidity, speed, and aerodynamics over shallower wheels near the same weight, like the 404 Firecrest, and even within the ballpark of the Lightweight Rundkurs. It doesn't matter how dirty or far your destination is, the 1.65 wheelset will get you there faster than the 'competition.'
Of course, there are many factors to the 1.65's ridiculous stiffness-to-weight ratio. Starting at the interface between the spokes and the rim, ENVE uses a patented process of molding in spoke holes, nipple seats, and valve stem holes. Knowing that carbon fiber gains strength from continuous fibers, ENVE routes the fibers around each hole in a 100% intact design. This design allows a lower weight at the spoke face, and adds overall rigidity to the rim. When built, the molded design promotes both higher spoke tension and tension uniformity. Another aspect of the 1.65's light weight is due to ENVE's use of removal bladders during the molding process. While most composite rim manufacturers leave the rim-shaping inflatable bladder in the rim, ENVE spends the time and money to remove it. This time-consuming process reduces rim weight, and makes for a perfectly tensioned wheel build.
And while all of that technology creates an aggressive stiffness-to-weight ratio, we all know that a 65mm deep wheel is built for nothing but sheer speed. Sure, rigidity adds to this variable, but so does the build. The ENVE 1.65s are hand-built in the USA with DT Swiss 240 hubs laced with 20/24 DT Swiss Aerolite bladed spokes. So, when you utilize the quick, powering gains of the rim, the 240's low-resistance and minimal rotational weight (around 209g at the rear) will keep your speed on the rivet with less exertion coming from your end.
The ENVE1.65 Carbon Tubular Road Wheelset is available in a tubular version. For the freehub body, you can choose either a Campagnolo or Shimano compatibility. Please note that the Shimano option is compatible with the new Shimano Dura Ace 9000 11-speed system.
What do you think about this product?
Have questions about this product?
my first enve wheelset A+
Familiarity:

I've put it through the wringer
I rode a prototype of this wheel several years back and fell in love with them. Subsequently I had another pair that I actually still own and have been using for several years. Comfortable, compliant, quick to wind up, stable, a fantastic wheel all around. I will say that I may personally pick these over the 6.7's by the smallest of margins due to the weight difference. I will admit to being a weight weenie and to get a wheel this aero and stiff at this weight is a real treat. These are definitely in my list of top 5 wheels out there. Super light but deep enough of a dish that you get the aero benefits, and again won't beat you up if the winds kick up. I think my earlier statement attests to the durability which is something you have to consider when spending this kind of money on a wheelset. I have not had to do a thing the the set that I have, highly recommended. If you have specific questions or help with shipping price you can contact me directly here at kylebrown@backcountry.com
Unanswered Question
Do these wheels come with valves and bags?