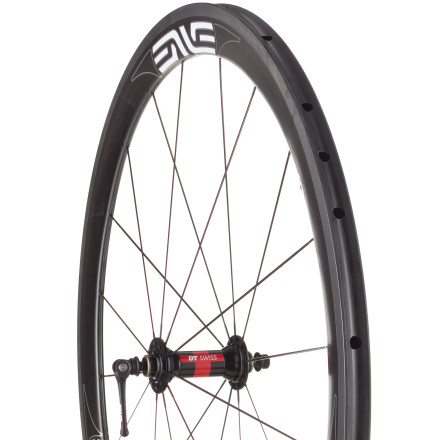 Detail Images
Every gram that you don't have to push along the road is time added and energy saved (that's why you shaved your legs and didn't drink any beer for 24 hours, right?), but lightening up your wheelset is probably the most efficient way to get a big performance boost by shaving a few grams. Lightness shouldn't come at the cost of stiffness, though; just ask ENVE, which designed its 1.45 Carbon Road Tubular Wheelset from carbon fiber, renowned for its winning combination of weight and rigidity.
With a 45mm rim depth, the 1.45 Carbon falls smack in the "do-it-all" section of the depth spectrum. Fast on climbs, flats, and descents, it weighs just 295g per wheel, so the rotational mass— how hard it is to get your wheels rolling, basically—is extremely low, which makes for efficient riding. Even accounting for hubs and skewers, the 1.45 weighs just 1128g as a set, so it's ready to be ridden hard on race day.
Weight is only half the equation, though. Even the lightest wheel has to be stiff, and, rather than drilling holes or using short fibers to weave gaps into the rim, ENVE's patented construction process creates spoke holes, nipple seats, and valve stem holes by routing continuous carbon fibers around each hole. Accordingly, the rigidity of the carbon structure is maintained and the weight is reduced around the inside of the rim. By keeping the stiffness-to-weight ratio high, ENVE keeps the 1.45 aggressive, capable of being ridden hard anywhere you find yourself.
ENVE hooked the 1.45 up with DT Swiss 240 hubs to keep you rolling free of resistance, and laced it up with DT Swiss Aerolite bladed spokes to keep aerodynamics high and rotational weight low. The tubular design provides a smooth and supple feel that's fully race ready, and the whole package is hand-built in the USA to ensure exceptional quality an attention to detail.
Continuous carbon-fiber construction
45mm rim depth
DT Swiss 240 hubs
DT Swiss Aerolite bladed spokes
Tubular
Hand-built in the USA