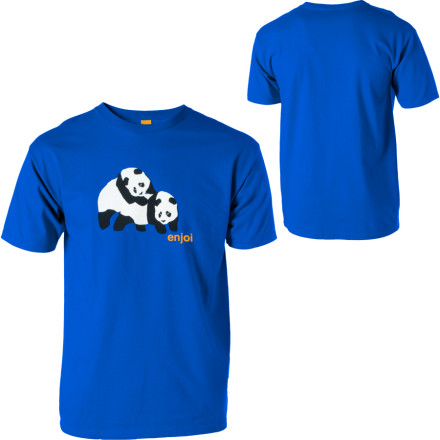 Detail Images

Community Images
Plan on answering lots of little kids' questions when you wear the Enjoi Men's Piggyback Pandas T-Shirt. Why is that panda riding the other panda? Why are the pandas hurting each other? I saw pandas piggybacking on The Discovery Channel! At this point, it is your duty to inform said kids of the mating habits of Ailuropoda melanoleuca. It's what their parents would want.
Piggyback Panda is awesome
I just love this shirt. The two pandas will turn everyone's head when you walk in the room! This is a great buy. The shirt is a bit longer in length and fits a bit baggy so no need to worry about what you are showing off when you are on the move. Everyone enjoys the pandas!
Pandas are cool!
shizzzam.
how the hell do i know what color im...
how the hell do i know what color im getting????
It looks like Athletic Heather in a small is the only color left.. so I'd have to say that one.
shirt fits on the small'ish side