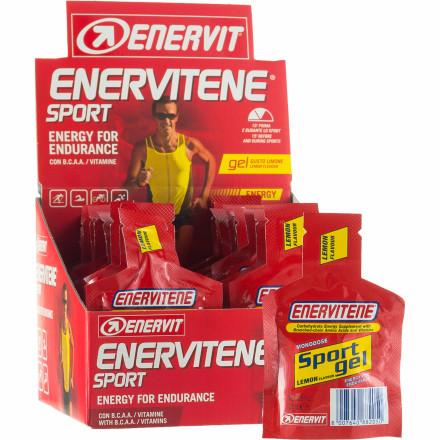 Colors

Detail Images
Enervitene is Enervit's go-to energy source for mid-ride usage. They offer it in 3 different forms: As a drink mix for your bottles; in a pre-mixed "Cheerpack" that has a slighty syrupy consistency; and, here, it comes in Gel form. It's reminiscent of the pudding texture of GU or Clif Shot. You should consume one gel pack for every 60 minutes of a workout, it provides you with 15.6g of fructose for long-lasting energy and Vitamins B1, B2, and B3 for carbohydrate assimilation. Orange, Lemon or Cola flavored. Comes in a box of twenty-four (24) 25ml packets.
Are these even legal?
Familiarity:

I've put it through the wringer
I swear these make me jittery after I take them. On the bike, they do a nice job keeping my blood sugar up but also giving me a little kick to get over the hump. Taste wise, I dislike these less than other gels. I mean, its a gel, its not like you are going to eat these for dinner. I do not know what makes me all giddy after wards but I love it. These are my go to gels.
Unanswered Question
how do these compare with like a 5 hr...
how do these compare with like a 5 hr energy shot?


Pass
Familiarity:

I've put it through the wringer
The flavor is terrable and it seems like sugar paste. I got some off chainlove. I thought I had gotten a great deal till I tasted it.
I think Gel use comes down to personal preference with respect to taste and consistency. I really the taste of the orange, and contrary to the description of this as being "pudding like" it is actually a little more watery and easier to swallow that GU (I actually don't like that thick consistency). Distribution of these is a little dicey, so I usually stock up when I actually find them, especially if on sale. If these cannot be found, I go with PowerBar Energy gel in tangerine, if that comparison helps.