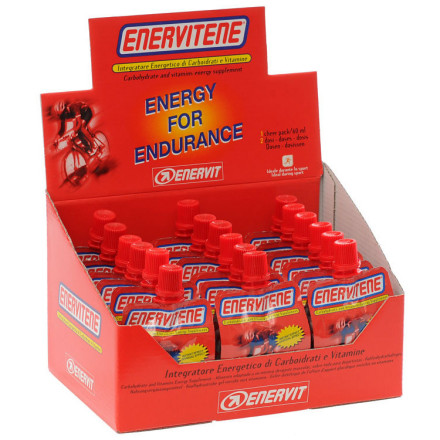 Detail Images
The Enervitene Cheerpack is Enervit's solution to the problem of gels being too thick to comfortably eat during rides. With a light, thin syrup consistency, the Cheerpack will give you the nutrients you need to keep going without that gross, sugary film sticking to your tongue for miles and miles. Enervit designed the Enervitene for use in the middle of rides, with a mix of carbohydrate types to deliver a quick shot of energy as well as some sustained perkiness to keep you going after that first boost wears off. Cheerpacks are available in Lemon, Original, and Orange and come in a box of eighteen 60ml packs.
Thin syrup consistency
120 calories per pack
12g maltodextrin per pack
15g fructose per pack
Vitamins B1, B2, B3
What do you think about this product?
Have questions about this product?
Mixed feelings
Familiarity:

I've put it through the wringer
Why mixed feelings? Well, it is one of the most expensive energy "hits" per calorie out there. It is really sweet - almost kind of nasty. yet I still use it. Sometime towards the end of a long race I'm pretty much sick of eating anything. But despite the sweetness, this goes down quick, and if you follow with a hit of water it is done in an instant with no lingering feeling of Uck! Most important, I get a real kick from it. I save this for the end and I'd say it has really helped me. I always like to have a few on me. But god, they are expensive so I am kind of stingy with them.