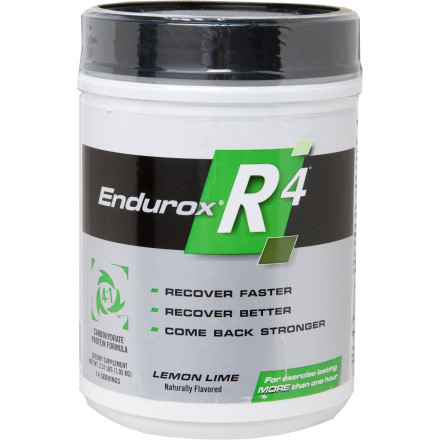 Detail Images
The last couple of years I've been averaging 6-12 marathons a year. Recovery drinks are one of the things that seem to make a difference for me. I used R4 (orange flavor) for a while but it always made me excessively gassy and would rack up my stomach for the next couple of hours. I even mixed it in a portable mixer to make sure I didn't have any dry lumps and experimented with watering it down. Nothing worked and I finally gave up on it. I've found my body likes the PowerBar Recovery drink better. No more gas and gurgling after drinking it vs. R4. I believe in the science behind R4, it's just some ingredient they use that doesn't agree with me.
I tested this recovery drink as I was doing a 150 mile run though the Sahara Desert. After an average run of about 20-24 miles through a very hot climate I was ready to drop at the end of the run. After taking the recovery drink I was walking around fine. It would take about 15 - 20 minutes to take effect. It is well recommended. I had the cherry flavor and it also was not bad tasting. This should only be taken after and not during the run.
I have been using Endurox for over 2 months after my workouts 3 x's a week. Endurox improves performance, no matter what the activity. I am confident that this product has enabled me to get more out of my workouts. I have not been sore after working out since using Endurox, and I feel that my performance during workouts has improved as well.
, ☃bcs_badge_alumni_label☃
Not the tastiest beverage in the world
Chemically, I suspect it delivers pretty well. I drank it during the Wasatch back relay and it seemed to hydrate and I didn't really get the aches too much.

The taste, however, is just kinda gross. Sort of a citrus/chalk/green mixture that is precisely what you'd expect something chalky and green with a citrusy odor to taste like. Bleh
Can't be absolutely sure it works as advertised, but I certainly suffered minimal soreness even after strenuous workouts while chugging down Endurox.
Use of Endurox after running
In the Hood to Coast relay run I participate each year each person runs approximately 3-5 mile legs in approximately 24 hours. The problem is you run hard for your leg and then immediately climb into a van and ride for the remaining of your participating runners legs. This can lead to sore muscles due to lactic acid build up. I used Endurox after each of my legs and did not experience sore muscles either the day of the race or the next day. I felt great and ran my best times. I highly recommend Endurox after your run coupled with Accelerade before your run for a greater experience. Thank you for introducing me to both of these products.
I used Endurox on a 60-day hike on the Appalachian Trail. My 56-year-old body never felt sore in the morning except for two days when I had *not* used it the night before. Highly recommended.
Endurox is nothing short of amazing. If you do not want to feel sore and tired after skiing, biking, running, weight lifting, climbing or any other activity drink Endurox.
Amazing muscle recovery formula
Endurox R4 is my choice for muscle recovery after a hard day of play. I make sure to drink it within a half hour of the end of exercising and I feel great the rest of the evening and I am strong the next day. I consider Endurox R4 essential for mutiday paddling trips and week-long ski adventures.