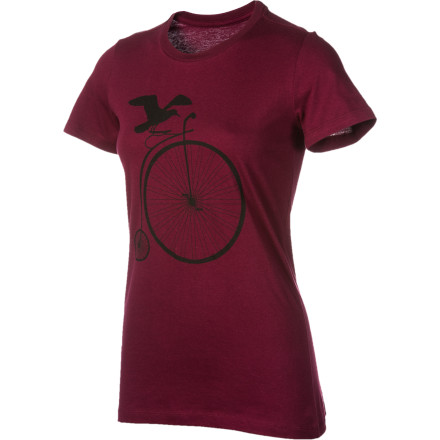 Detail Images
Nothing says 'class' like a high-wheeler. Well, actually quite a few things do, but they're a lot more expensive than a T-shirt. They also don't convey your message to the world–-that you're a cyclist and you're proud of that. When folks see you wearing the Endurance Conspiracy Seagull T-Shirt, they'll know that you're one classy cyclist. Some people might think you're also a bird-lover, and there's nothing wrong with that, either.
Endurance Conspiracy is owned and managed by passionate endurance athletes who are in it for much more than a quick buck. EC is a company that has been built around the idea of an outdoor community. Its products are designed to be as Earth-friendly as possible in a fun-not-preachy way.
All Endurance Conspiracy T-Shirts are made with 100% organic cotton and adhere to Bluesign resource productivity, consumer safety, air emission, water emission, and occupational health and safety standards.
The Endurance Conspiracy Women's Seagull T-Shirt is available in sizes Small through X-Large.