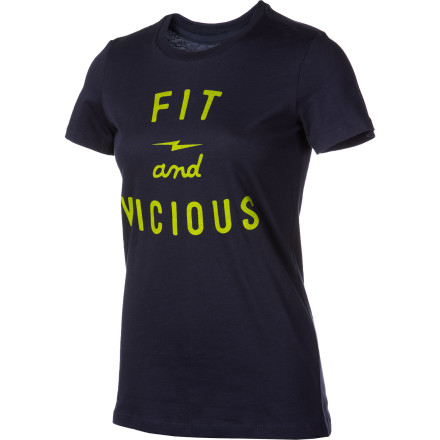 Detail Images
It's clearly evident that you're fit, but the Endurance Conspiracy Women's Fit & Vicious T-Shirt gives folks fair warning that you're not to be trifled with, especially on a bicycle.

Endurance Conspiracy is owned and managed by passionate endurance enthusiasts who are in it for much more than a quick buck. EC is a company that has been built around the idea of an outdoor community, and its products are designed to be as Earth-friendly as possible in a fun-not-preachy way.
All Endurance Conspiracy T-Shirts are made with 100% organic cotton and adhere to Bluesign resource productivity, consumer safety, air emission, water emission, and occupational health and safety standards.
The Endurance Conspiracy Women's F&V T-Shirt is available in sizes XS through L and comes in Beat Navy.