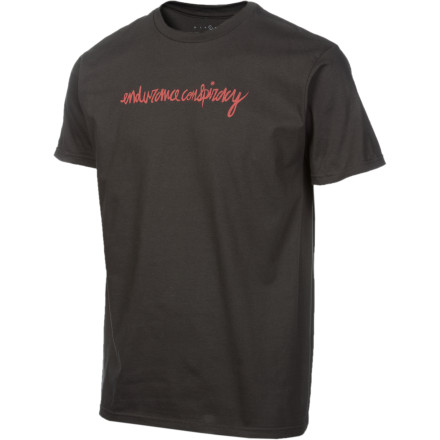 Detail Images
Recently there was a debate on the news about whether there was any real benefit to teaching cursive in schools. As with many arguments of this nature, the groups on each side of the argument were passionate, and neither group was really listening to what the other had to say. While we don't normally like to get mixed up in debates like this, we are compelled to present an argument in this case. If people couldn't read cursive, nobody would understand the print on the Endurance Conspiracy EC Logo T-shirt. If that happens, we all lose.

Endurance Conspiracy is owned and managed by passionate endurance sports athletes who are in it for much more than a quick buck. EC is a company that has been built around the idea of an outdoor community. Its products are designed to be as Earth-friendly as possible in a fun-not-preachy way.

All Endurance Conspiracy T-Shirts are made with 100% organic cotton and adhere to Bluesign resource productivity, consumer safety, air emission, water emission, and occupational health and safety standards.

The Endurance Conspiracy Men's EC Logo T-Shirt is available in sizes S through XXL and comes in Charcoal.