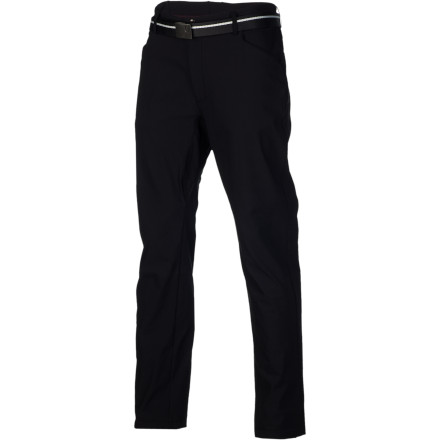 Detail Images
Unless you want to be forever referred to as 'the bike guy' in your office, we don't suggest arriving in wet Lycra everyday. Especially since you have so many options for stylish riding apparel that don't give off the faintest hint of cycling. Don't believe us? Go ahead and ride that rainy, eight mile morning commute in your jeans, and get back to us. After the experiment, we recommend slipping on the Endura Urban Pants for a perfect bike-to-boardroom riding experience.
To integrate its Urban Pants into your daily life, Endura had to be certain that they were, above all else, functional and unassuming. So, on the side of functionality, Endura used a four-way stretch material for the construction of the pants. This means that the fabric accommodates the movements of your legs when you're pedaling -- which is important, considering that the Urban pants have a slender, contemporary cut. Further curing the ailments of commuting in pants, Endura addressed the issue of wear from the saddle. To combat this, the pants feature a seamless crotch gusset that minimizes abrasion from the saddle, while reducing chafing on your skin.
As we already mentioned, the Urban pants have a slim fit, but this isn't simply for style. The tapered leg eliminates the need for securing the ankles of the pants. With the 'no-flap calves' design, Endura ensures that your pants won't get sucked into the chain. The waistband also features a cycling specific design. Endura designed the waistband with an internal fly gusset, an extended back rise for the waist, and a lowered front rise. This way, you don't have to fuss with the pants on-the-fly to keep your body covered.
Yes, the pants look like a pair of stylish trousers that are worthy of both the office and the bar. But, all of this means nothing if you're sopping wet when you arrive at your destination. That's why Endura treated the Urban pants with a water-resistant finish. Now, moisture beads away, and you'll be comfortable both on your journey and upon your arrival.
The Endura Urban Pants are available in the color Black and in five sizes from Small to XX-Large. Endura has included a belt with every pair of pants.