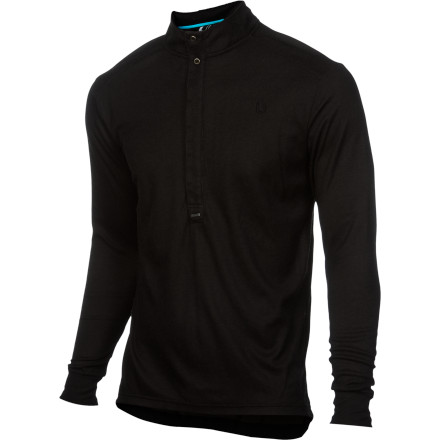 Detail Images
If every bar, restaurant, or grocery store was a block away, you wouldn't ever need to ride there. But, we live in the real world of urban sprawl, and the reality is that a 20 minute ride to the watering hole part of life. Even more, when you're on the go, you don't always want to look 'on the go.' That's why Endura created the Urban Long Sleeve Jersey. Blending style with function, the Urban jersey is the fashion solution for any bike commuter who doesn't want to look like one.
A master of disguise, the Urban long sleeve jersey has been made from a cycling-specific materials, while retaining the appearance of a 'normal' shirt. To achieve this, Endura constructed it from a sophisticated blend of the Coolmax fabric and Merino Wool. Both materials work in harmony to both maintain a casual appearance and wick away moisture. The result is a shirt that feels light, airy, and dry whether you're on or off of the bike.
The Urban jersey feels relaxed, with the rear hem being subtly extended to provide coverage when you're in the saddle. We should note that the drop isn't so much that it looks like you're wearing a cape around the office. Endura incorporated a high collar for the jersey. And for extra, on-the-fly ventilation, a long series of buttons lead below the sternum. To store your keys, plastic, or hard currency, Endura also added a hidden, zippered security pocket on the rear of the jersey.
The Endura Urban Long Sleeve Jersey is available in the color Black and in five sizes from Small to XX-Large.