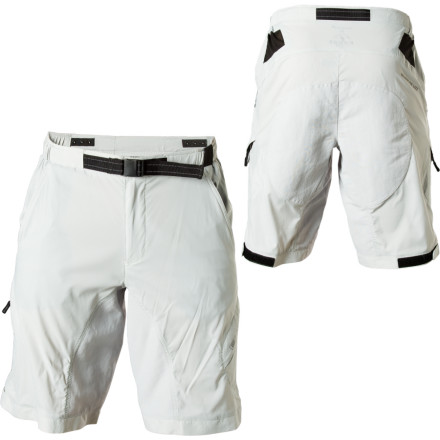 Detail Images
If Endura's original Hummvee Shorts were a Leatherman, then their Hummvee Lite Shorts are a Swiss Army knife. And sometimes you only need a few precise tools to get the job done. The Hummvee Lite Shorts use a 4-way stretch fabric with mesh rear sections in comparison with the heavier ripstop Cordura of the Hummvee. So they ultimately give up some durability (although they do have a double layer seat) but breathability and comfort on hot days has been vastly improved. These shorts are perhaps our most comfortable offering for stifling summertime riding. With less prominent hip and leg pockets and a shorter inseam, the Hummvee Lite offers a sleeker look than other baggies. The contrast stitching of the integrated stretch belt is a stylish touch.
The Hummvee Lite includes a legit 6-panel Lycra cycling short as a "liner" with Endura's Clickfast system. The liner snaps into place inside the baggy shorts' waistband and can be washed separately. The Hummvee Lite also has velcro-adjustable leg openings, reflective logos, and seam-free inside leg panels. The fabric has been treated with a DWR (durable water repellant) finish, so it sheds misty rains and splashes from puddles effectively.
The Endura Hummvee Lite Shorts are available in Black and Stone and come in five sizes from Small through XX-Large.
Share your thoughts
What do you think of the
Endura
Hummvee Lite Short with Lite Liner
? Share a...
I actually bought these at my LBS, but want to throw in my 2 cents. There are 2 main problems with these shorts: 1) the liner is practically paper thin, so for any decent riding, there is not enough cushion there, and 2) the liner and shorts snap together (4 sets of 3 snaps). The snaps are there, obviously, to keep the liner from shifting around. Problem is that if you want to use this liner with any other shorts, or without snapping it in, the snaps painfully dig into the skin at your waist. Some positives: the shorts are very light weight, and they seem to be durable. I am 175 lbs, 5'-10" 32/33 waist, and had to get a large. I typically ride 2x/week, 13-25 miles per ride, singletrack.
I've only used Fox shorts before. They two I've used have been OK, but I felt they were too heavy and lacked breathability.

I was excited about these Endura shorts because of the thinner material, almost like some hiking pants. In addition it has a couple of mesh panels on the back to help with ventilation and promised to have a less baggy cut.

The looser, lighter material is welcome, but it does like it causes the fit to be a bit "saggy", especially in the seat area. This is a minor complaint, though. The lighter feel is a huge plus.

The liner is pretty bad. It felt extremely baggy, as if I was wearing diapers. I haven't even bothered riding with them, instead using the liner from my Fox shorts.

The sizing chart here seems off. According to the chart a medium would fit me, but it didn't. I had to return it to get a large.

Overall I'm happy. These shorts replace my Fox shorts, but I am using the liner from those instead of the ones that came with the Endura.
These shorts are quite good. Was borderline between small and medium so I ordered a medium. The inner shorts are almost perfect if slightly large, while the outer shorts have a lot of waist left, but the belt keeps them tight. I'm 5'7", 140lbs.

Shorts are lightweight and quite comfortable. Only complaint is that the chamois folds in half a bit and rides up into your crack when you're not on the bike.
I bought these for my husband, they seem "lite" enough for him, just wish they had a drawstring on the liner, he has no hips and it would help avoid some crack on the ride. Otherwise they seem very durable and high quality. He is 6 foot, 190 lbs and the large fits fine.
The picture shows only the liner. Is this...
The picture shows only the liner. Is this for both the shorts AND liner? I hate buying things when it has a picture that may not show the entire product.
It has both shorts and liner