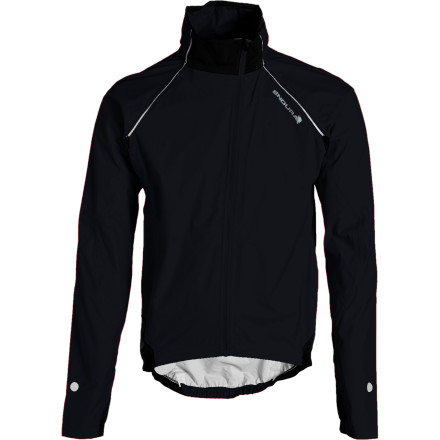 Detail Images
In addition to shedding water, Endura's Helium Jacket sheds light on the bleary-eyed obfuscation of dressing for an early morning ride in what promises to be mixed and perhaps nasty weather. Sometimes outerwear comes down to one question -- stacked insulative layers or less insulation and a shell? If you're like us, that decision, shell or no shell, has usually boiled down to the fact that your old waterproof jacket is not compact enough to fit in a back pocket if you get too warm. But when it's raining, the Helium Jacket will definitively keep the water and wind from sapping your body heat. Warm is always good, and the Helium's no frills design makes it super-packable and pocketable if you get lucky with some sun.
You see, Endura is a company born in the Scottish Highlands, where the weather can go from bad to worse on the whisper of a breeze. They know how to dress in layers and how to use those layers to manage temperature and moisture to enjoy every ride, no matter the conditions. The Helium Jacket is designed expressly with this layering in mind. As stated before, it will fit in a back jersey pocket, and the best part is that it doesn't sacrifice any technical elements to be so packable. Unlike many superlight jackets, the Helium has fully taped and sealed seams to complement the waterproof, windproof, and fully breathable PTFE Protection shell material.
Endura keeps things simple. The Helium has but one pocket, in the back and slightly off-center. It's perfectly useful for a stash of cash or your music player, and there's a port through which you can thread your cord to route it inside the jacket to your awaiting ears. This pocket also inverts to serve as a stuffsack for the jacket when you need to get it put away. The body of the Helium is artfully cut, gusseted, and darted to provide an athletic fit so that it feels great when you're riding -- no bunching or creeping. The lightweight nylon shell is layered with a PTFE membrane, essentially Teflon, on the inside to make it waterproof, and Endura makes sure that the Helium is 15 times more waterproof than what is considered to be the accepted standard. A tricot mesh is bonded inside the membrane to add durability and aid in moisture transport for breathability, yet it adds hardly any weight or bulk to the jacket. The back has a shingled layer between the shoulder blades with a trapezoidal mesh panel that will facilitate a breeze through the jacket when you've got the zipper pulled down in front.
The streamlined nature of the Helium is evident at the wrist cuffs and hem. Instead of a bulky drawcord or velcro straps, Endura uses gussets made from their stretchy softshell material to keep the openings fitting nicely without flapping in the breeze. They also use a raglan cut for the sleeves with reflective piping in the seams on both the front and back of the shoulder. The front zipper curves off-center as it nears the neck. This eliminates any scratchy or stiff feeling under your chin when you have to ride in nasty conditions and want the zipper pulled all the way up for absolute waterproof coverage. This is another place where Endura uses their stretchy softshell with great effect.
The Endura Helium Jacket comes in Black and Red, and it's available in five sizes from Small to XX-Large. There are more reflective dots on each wrist and at the back waist to make you more visible in low light conditions. The Helium comes with a separate stuffsack to keep it in order in your gear bag or backpack.
Ultra-compact 2.5L waterproof-breathable fabric resists strong winds and rain to keep your core warm and dry
Softshell hem and cuff panels for an athletic fit without the need for drawcords or adjusters
Inner storm flap with wrap-over zipper guard ensures the elements are locked out
Reflective strips on front and back neck and dots on cuff provide low-light safety
Stretch panels on hems and armholes for freedom of movement