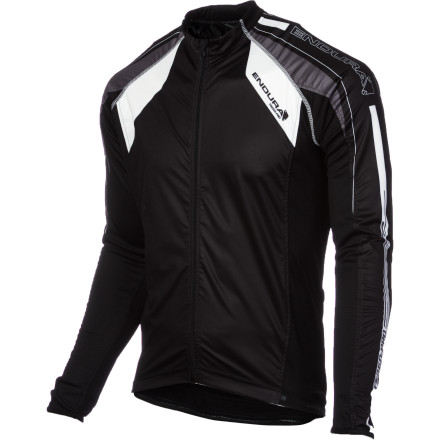 Detail Images
Being situated at 7000 feet, we've learned to prepare for every kind of weather after fall. We've seen it all blow in as fast as lightning -- snow, wind, hail, and even parking lot tornadoes. What we've learned is that starting the day with the right layers is crucial, and that the Endura FS260 Pro Jetstream Thermal Long Sleeve Jersey is the perfect launching point to keeping your body protected.
The FS260 features wind-resistant panels on the front and bicep regions. This strategic placement ensures that you're protected where you actually need it; after all, a tail wind is always welcomed -- no matter how cold. But just in case it is a little too chilly, the Pro Jetstream has insulating grid fleece on the back and under-sleeves. The grid construction allows a total freedom of movement, and this concept has been further elevated by the incorporation of pre-curved sleeves. Whether you're hammering or bailing, Endura has made sure that the FS260 will move with you.
Endura covered all of its bases with the FS260. To stack protection on top of protection, the jersey's critical seems have been cover-stitched. This eliminates pesky drafts and water seepage. However, if you need to create a draft to dump heat on-the-fly, the jersey has a full-length front zipper. The FS260 is also capable of holding all of your inflation gear, ride nutrition, or an extra bottle in any of its three rear storage pockets. And for the items that you can't afford to lose, the Pro Jetstream includes a zippered security pocket.
The Endura FS260 Pro Jetstream Thermal Long Sleeve Jersey is available in the colors Black and Red and in the sizes Medium and X-Large.