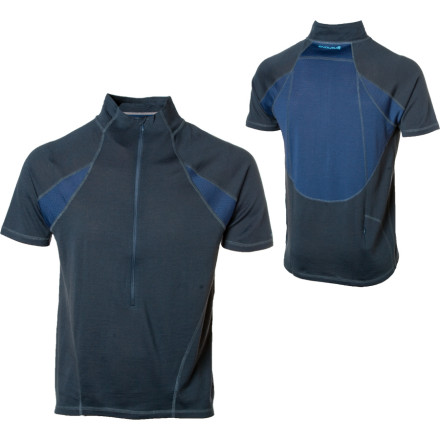 Detail Images
Named for its soft, moisture wicking merino wool fabric, the Endura Men's Baa Baa Merino Tech Jersey may have you singing the praises of four-legged woolen livestock before the end of your ride. Buttery smooth against your skin and warm during cool-weather rides, this ¾-length zip jersey dries quickly and offers you natural odor-fighting properties (not that we're saying you smell bad). Stash some cash, cards, or a cell in the concealed security pocket so your last few greenbacks won't get jacked during your morning ride.
Very confortable and looks good!!
I used it to run, bike and treeking! Very confortable and dry! It can used to travel also!
Versatile, with lots of features.
I have worn this on a few spring Mountain bike rides in Northern Utah. It would easily be good on its own into the 80s, and paired with a vest and arm warmers would be comfortable down into the mid 40s. The funnel-shaped collar zips up nice and high. The zippered pocket has internal wire routing for an ipod or headlamp battery, and there is an integrated glasses cleaner inside the hem. This is going to be my go-to jersey for the dirt this year.
This is a nice, lightweight, wicking jersey. Great for summer use or could make a baselayer for colder rides.
Decent Jersey, best as an under-layer
I really like wool gear. I have several different pieces and have been pleased with the performance of evey one of them. I bought this jersey and so far have been pleased. I will say that although I have worn it by itself, I think it would be better as a base layer with a regular jersey on top. It has gone through the wash okay although it has balled up more than other wool I have. In the end I would recommend it if you can find it on sale.