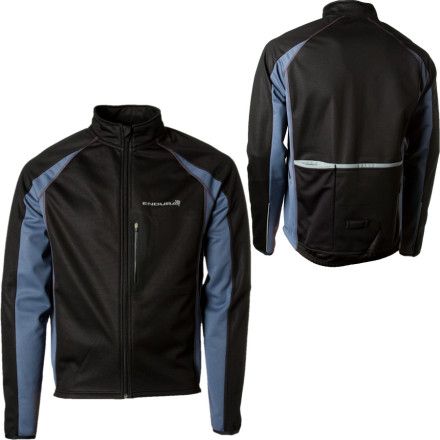 Detail Images
It does its job. I am usually large in Endura Products, but I ended up with an Xlarge for the fabric is stiff, though cut for a snug fit; I like it with a bit more room and ended up XL. The construction is top notch, two side zips to vent with waterproof zippers and brushed inner lining. A light base layer and I am set up basic cold wind- Colder the temps (below freezing) and I would wear a good midweight merino wool layer and do fine. I am sure it would "defend a light rain, but it does not purport to be a rain jacket.
Just got this jacket and tried it out in 30 - 30 f + weather. You really have to have a really good quality base layer to enjoy this jacket since it is tight fitting and you can't have too many layers on.

The left back pocket is too high and hard to pick stuff from. Could also use front pockets to warm hands with.

The Endura material is, however, great as it stretches with your movement!
Incredibly warm, great external pockets. Sizing was true. Zip out under arms for breathability. Only problem I had was the collar. Top of the zipper was well thought out. Extra material covered the zipper. My problem was with this extra material. It rested right on my adam's apple & drove me nuts. Had to flip it down. Real downer because it would have been great cold weather gear but I have a throat thing that couldn't make this comfortable and had to send it back.