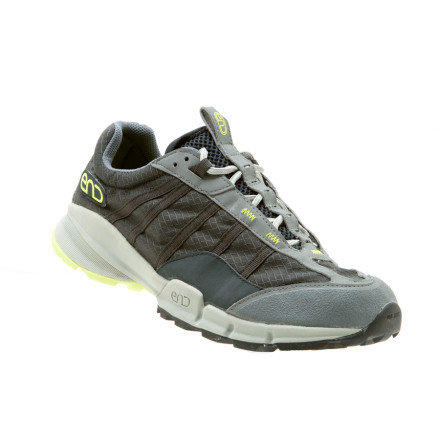 Detail Images
Great shoe at a bargain price. buy 'em.
bought these guys because they are cheap right now and they look good. I also liked the lightness. Now that I have them I couldn't be happier. I wear them for a jog twice weekly and somehow end up wearing them to work afterwards. I just can't bring myself to leave them at home...

get 'em while they last.
Just like Marcelo, my left insole rides up to the back of my heel.. I've super glued them to the sole of the shoe, we'll see how long that lasts.. I like the flexible achilles stabilization and the shoe is very nice and light. cheap insoles my only complaint so far.
I've really enjoyed these shoes. Light-weight and reliably waterproof have proven great for the wet trails around Juneau. A couple of things to note:
-I found that they run big.. I comfortably wear a size 10 in other athletic shoes, but I think I would've been better off with a 9 with the Stumptown 10oz. If I didn't need them for a race shortly after they arrived, I probably would have exchanged them. But I've been making due with the bigger shoe
-I've also had a very annoying experience with the insoles. I'm not sure if it's because they are too big, but from the beginning the inserts haven't stayed in place, riding up the back and up my heel. Recently the left insert has slid nearly all the way out of the back of my shoe leaving me to pull it out completely so I can finish my run.

I really like these shoes, but I think I would love them if I had known about the sizing and if the inserts didn't give me such a hard time.
Stumptown 10 oz vs 8.5 oz
I actually bought both the 8.5 and 10 oz END Stumptown trailrunning shoes to try, and am putting this review under each shoe. They are cut VERY differently. The 10oz is MUCH wider across the forefoot than the 8.5 oz. It feels better constructed than the lighter shoe. It has a removeable footbed, vs a glued in footbed on the 8.5oz shoe. Both are quite comfortable. The lighter shoe is not really supportive enough to be a trail running shoe, IMO, but if fine as a lightweight casual shoe. The 10oz is definitely the better shoe as an actual running shoe.
END Stumptown 10oz Trail Running Shoe - Men's
These shoes were an experiment in a company I wanted to support for me. Their practices of using recycled content and reduced packaging are to be commended. The shoe is feather weight and feels great. The upper materials are quite flexible and make shoe fit pretty roomy. The upper also took being sprayed off with a hose without getting my foot wet. The entire shoe is very flexible and and is definitely for those looking for performance not extra support. I have about a month in them of fast training sessions, a couple longer runs, and a shorter race. I like them a lot but probably wouldn't run a marathon or longer distance in them and I wonder how long the cushioning in this model will last. Overall though a great and seemingly well constructed product and I would not hesitate to try one of their slightlt heavier shoes for those looking for more cushioning or running longer distances.
You gotta try these badboys!
Ohhh, let me testify....these bad boys rock! lightweight, great grip and they just hug my foot!
I loved the lightweight feel of this shoe, a true gem for the trail.