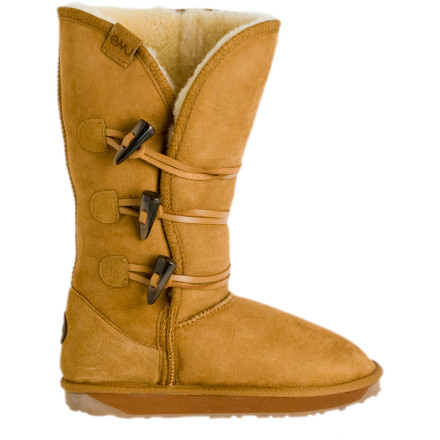 Detail Images
Big fluffy snowflakes land on the tips of your EMU Women's Paddington Hi Boot toes as you walk down the street. Because EMU made the Paddington Hi Boots from wicking, water-resistant Australian sheepskin, your feet stay toasty in cold weather and can breathe when you pop into the coffee shop. Feel free to continue strolling around town for the rest of the wintry day, or, for that matter, for the rest of the winter. The boot's double-stitched seams and durable EMUsoles stand up to plenty of wear and tear, and molded suede heel cups offer plenty of support for long walks down Main Street.
So comfortable!!! You might want to order a size smaller or round down. At first they will feel tight but they stretch out as you wear them and get pretty roomy. I kind of wish I had a smaller size but they are still great being a little big.

They are great, supportive, and have good traction.
Very nice boots but they run small. I have to exchange for a larger size
Love love love love these boots!
Just bought the same ones on Ebay for muuuuch cheaper than this ;)

They are gorgeous and I gotta say I look better than some of the celebs that are wearing em :)
I bought these a couple of weeks ago and I absolutely LOVE LOVE LOVE them! I have owned three pair of Uggs and I like the bottom package of the Emus much better (don't slip as much, beefier and better insulated). More important to me, however, is the sheep skin lining. It's pure love and luxury. I am wearing them at home as my slippers. I HIGHLY recommend these!