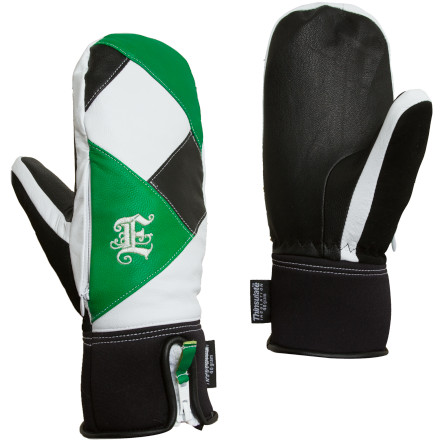 Detail Images
When gloves take notice, your hands notice. The Empire Attire Winter Mitt uses quality goatskin leather for durability, Thinsulate synthetic insulation the stretch of neoprene on the cuff, and faux fur just to set off the look.
On the website the Kelly Green gloves look...
On the website the Kelly Green gloves look different than here. Which is more accurate?
Hey there, when in doubt, always use the mfg's website as the reference...
Hey World,

Luke Van Valin here. I spend my winters announcing competitions such as the Winter Dew Tour, X Games, and European X Games; so I need a glove that is going to keep my hands the warmest. Most skiers get to wave their arms and stay toasty and they rip down the mountain, but I am stuck in a standstill for hours at a time. Empire mittens continue to keep me dry, and comfortable every time I hold the microphone. I would recommend these to anyone.
Hey Guys,

I've had the pleasure of rocking these mittens on the hill and I couldn't be happier. My hands always stay warm and dry, even though there is a pocket for handwarmers if even need be. They are the best looking mittens I have ever owned and the quality is unbeatable. Get these gloves and you will not regret it.

-Peter O.
I have had Empire Mitts in the past, but these ones are by far my favorite. They added brand new waterproofing and are way warmer. They also are of the highest quality. I have never been in a more comfortable pair of mitts in my life. Try 'em out.
Simon Dumont makes these gloves, so duh...they're bound to be kick ass! These are now my favorite gloves, and I've been through a good number of gloves. Warm, durable, long lifespan, and good looking...what more do you need?
Seriously, these are THE best gloves I have ever owned! Not only do they look awesome on the mountain, but they feel awesome too! They're SUPER warm and comfortable! I'll never buy anything but Empire Attire gloves again! Buy these gloves ASAP!