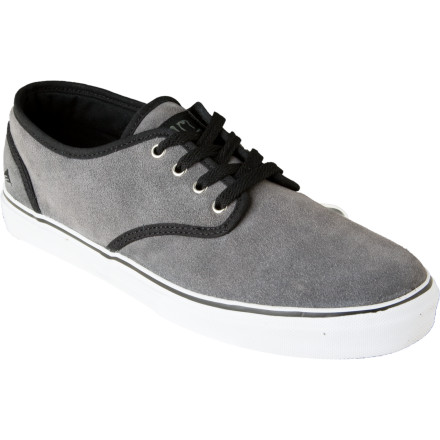 Detail Images
If you don't like a thick, bulky shoe cramping your skate-style, then you're like Leo Romero and should rock his signature Emerica Men's Romero 2 Skate Shoe. A double-wrap sole adds more support and durability than other vulcanized styles, so you know the Romero 2 has the power to dish out misty- and tre-flips on the street for as long as you can keep stomping. Of course, you have to call it a day eventually, which is cool because the Romero 2 wraps style around your foot (in addition to feel, grip, and support) when it's time to head out for the night.
Great shoe if you are a Rubber Duckie
Both shoes squeaked with each step I took. Total garbage.
Unanswered Question
Hey, what size should I get in these ?. I...
Hey, what size should I get in these ?. I wear 9 in globes but 10 in supras.
Another shot of Whiskey Militia
Good solid addition to the crew of vans I got runnin. All for half price.
Fresher than your local market
I received these shoes 2 weeks ago and absolutely love them.One of the most comfortable shoes I have ever put on my feet. I get compliments fro the ladies every time I walk into the bar, surf shop, or just walking down the street.
What is the fit like on these shoes? The...
What is the fit like on these shoes? The last Emericas I bought were too small for me.
Well, they'll probably fit just like the other Emericas you bought, so get a half size bigger this time.
nah i got a 9.5 because thats my exact size and these romeros feel .5 too big.
I love the way these shoes look; they are like combination of the wino and the laced. With that said, I feel like emerica could have stepped up their game a bit on the construction. The heel is not very supported and is hard to get on without completely untying and retying the shoe entirely. They wear quite fast, which is expected for single layer toe-cap, but do have good feel. They are quite a cool shoe, but not too much of an improvement over the wino or laced in terms of comfort or skating ability.