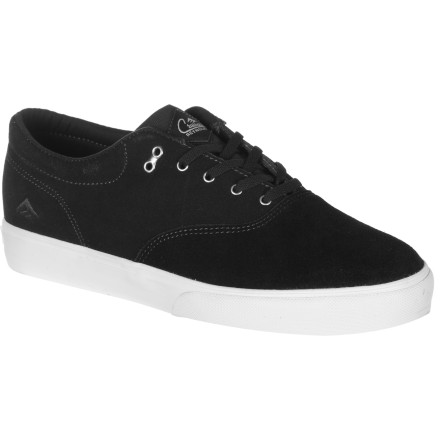 Detail Images
Ultra-slim and low profile, the Emerica men's Reynolds Cruisers Skate Shoe is perfect for chillin' or skating. Clean and simple but far from basic, Emerica made sure these shoes were ready to handle any level of skating. A suede or canvas upper along with a single piece toe cap provides durability. A super-protective foam footbed provides cushioning and is all wrapped up in a vulcanized outsole. So if you just want to kick it, or have an itch for some pop, these shoes are ready.
keepin it classy
Familiarity:

I've put it through the wringer
Good Shoe, pretty basic, good looking, - compared to Vans I have owned in the past of a simular design they are much much more durable if just slightly stiffer at first.
emerica shoes are good for skating they last long
This was a great shoe, lasted pretty long. About 3-4 months until things really got worn down. They were super comfortable when I first got them and they have an amazing in-sole that adds to the comfort. I also loved the durability of the laces, they didn't break until the last month I had them.

Over all, I would recommend this shoe
are the white/white all canvas on the...
are the white/white all canvas on the outside or suede?
The white/white colorway are all canvas. Hope that helps.
This is a skate shoe through and through
This shoe certainly SHOULD be skated. It may be called a cruiser, but it's definitely more than that. The seamless toecap is durable as can be, especially the suede ones. The footbed in this bad boy adds some much needed padding into the thin vulcanized world we're living in.

To sum this shoe up, it's the jam. Pick em up. You won't be bummed.
I've owned a few pairs of Lakais and am...
I've owned a few pairs of Lakais and am thinking of getting another pair because they are so comfortable. Do these reynolds compare in comfort at all???
That depends on what Lakais you had. Keep in mind that everything fits a little different. This shoe is very low profile. They're not made to feel like you're standing in a cloud, so don't expect too much padding. They're made for board feel.

These shoes are amazing though. One of the best shoes I've ever skated in.
These shoes really shouldn't be skated, unless you forgot to bring your skate shoes, i wouldn't, they will hold up for a couple days of hard skating, but there for relaxing and cruising on a board, so don't expect a lot, Still a super chill and AWESOME shoe
How do these run in terms of size? I have...
How do these run in terms of size? I have a wider foot and I tend to wear a size 11 both in Ipath shoes and Nikes. Any thoughts? Gracias ahead of time.
I would be confident in telling you to buy the 11 in the Emerica Reynolds Crusier. If it doesn't end up working you can send them back and the people at Dogfunk.com will get you the product you need.