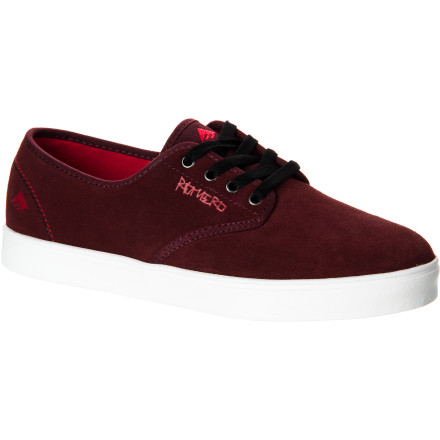 Detail Images
Chill out on the stoop in the Emerica Men's Laced Shoe. This super-thin skate shoe rocks internal tongue straps that keeps your footsies snug so you don't have to wear laces—just like Emerica pro Andrew Reynolds. Emerica threw in a set of laces just in case you want to tie up your pups.
How much these shoes last longer while...
How much these shoes last longer while skating ?
Hey Rodion,

I'm not sure I fully understand your question. If you're just wondering how long these shoes will hold up if you skate a bunch, that is hard to say. Everyone has a different style and some people are a lot harder on their shoes than others. I'd say if you skate in these daily and are pretty aggressive, they'll probably only last 3 months tops.
I picked these kicks up on Whiskey Militia for about $30, hoping that they would help me blend into my corporate slave environment. So far they have accomplished that goal because the ultra clean style gets easily mistaken for boring by the sheep and the drones. So in summary: great success.

I'd say these fit true to size. You might want to order a half size small, but it isn't a big deal.

Unfortunately I cannot recommend skating in them. First of all it would be a shame to scuff these shoes up. Moreover, there is zero padding, and the upper material feels like cardboard. I have not broken them in very well, but I get the feeling that they will be flimsy before too long. They seem like the type of shoe where if you try to slip 'em on and stomp the back of the heel down, it will never be the same again.
I love these shoes! I like to wear these with the no show socks and they look awesome! Very comfy and very light!
Just got these shoes today and skated them all day, I'm more than happy.
Very comfortable shoe. Super thin and light. Real bare bones skate shoe. Sizes do come in large. Seems like they are about 1 full size larger than listed … especially after they stretch out a bit. Would definitely recommend though.
Hey are all colors of the shoe made of...
Hey are all colors of the shoe made of suede or are some of them made of canvas?
Best Answer
The Dark Navy and the Brown/White are canvas. The rest of the colors we have right now are suede.
these shoes are the best shoes i ever got for skateing. at first my foot hung off the side of the bottom, because i have fat feet. but when they stretched out a little from skating, it was perfect. padding is not bad. i like the thin look.
Don't be duped by the vulc look on these. It is in fact a cupsole. You get that cool look from the vulc, but the actual skate-able cupsole. This shoe couldn't skate any better. Watch any footage of Leo from the last 4 years, and hes probably wearing this shoes. Even though he had a 2 pro models, he still always wore this. Its the best under $50 shoe on the market.
These shoes are pretty legit. Wanted something similar to vans but with more support and a slightly different look. These are perfect for that look, really clean and slim. They did take a little while to break in, but once broken in they fit great. Sizing was pretty good, got a 9 but theyre just a little too loose to wear without laces for me. But thats ok cause they look better with the laces anyways. Overall a good, simple shoe to rock anywhere
does anyone know if the sole is removabl...
does anyone know if the sole is removable?
yeah, the sole is removeable, it's a thin eva sole, but it helps none the less.
First off the shoe was way to big. I wear a size 10, bought a 9 1/2 and it was still way to big. They really f'd up their sizing charts. Its cool if you like skating around in clown shoes, but thats not my style. They look way better in the picture then they do in real life. Super disappointed in these shoes.
I like these shoes a lot, i wear a 10 and the 10's fit me well. If you are going to get the tan color, just be careful to keep them clean!
does any one wear a sixe 4-7 ? becouse i...
does any one wear a sixe 4-7 ? becouse i was wondering if they fit snug or loose
The Emerica Laced fit a little loose. They have no padding and the smallest size we carry in this shoe is a size 8. I would recommend looking at the authentic from Vans. That is really the only men's shoe that we carry in the size you need.
The Emerica Laced is one of the most basic skate shoes around. It has absolutely no padding making it you can have ultimate board feel when skating these. The suede does make the shoe last longer than a normal, canvas style skate shoe and the toe has internal re-enforcement so your grip doesn't rip through quite as fast.
Does anybody know what color laces these...
Does anybody know what color laces these come with? just black?
It depends on the color you pick. Like most shoes they usually send something that will match the colors in the actual shoe. It will usually be a lace that matches the main color and one that will match the accents of the shoes. Sorry I couldn't be more help.
i bought these about a month ago, i never got extra laces
I have a little wider foot than most and they fit a little too snug on me. They fit a little smaller to size too and if you don't wear thick socks it sort of irritates the back of your heels. otherwise they look sick as hell.
They came super fast in the mail. It took a couple of days to wear them in but they are comfy now. I LIKE!
Classic basic looks and function
I bought these shoes to avoid having the Vans Authentics everyone else has and still have a basic good looking set of kicks. I haven't skated them yet, but they are surprisingly comfortable. The foot bed in these def has more padding than the Vans Authentics or slipons. I am rocking the laces, but you could rock these as slip ons for sure. I usually wear a size 10 and I got these in a 10. They fit well. I could have squeezed a 9.5 if I really wanted to.

Note - these have a cup sole that looks like a vulk sole.