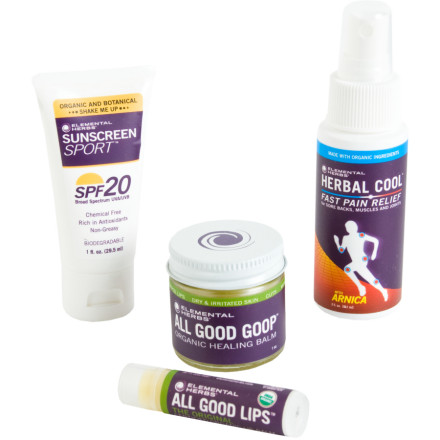 Detail Images
Wild-crafted healing herbs and high-quality organic ingredients team up to take care of the bumps life dishes out on a daily basis in the Elemental Herbs Organic Healing Set. Made from organic, all-natural ingredients with no petroleum products, the items in this set take care of cuts, scrapes, blisters, sprains, burns, and soreness, and protect your skin from sunburn. Safe for sensitive skin.
All Good Goop Healing Balm (1oz jar) incorporates a host of healing herbs to soothe minor burns, sunburn, scrapes, chapped lips, blisters, cracked and calloused hands . . . use it anytime your skin needs some TLC
Sport Mineral Sunscreen (1oz tube) nourishes and rejuvenates your skin as it shields it from the sun's burning rays; zinc oxide provides SPF 20-rated protection
Herbal Cool (2oz spray bottle) provides temporary symptom relief from strains, sprains, bruises, sore muscles, backs, and joints; goes on cool and warms up fast
Original Lip Balm (1 stick) protects your lips and soothes them with the same healing ingredients in the All Good Goop Healing Balm
Herbal Cool = great for recovery after long bike rides, soothes and relaxes all my aches, pains, and sore muscles

All Good Goop = perfect for any sort of outdoor activities, it takes care of all your cuts, burns, cracks, and bites

Sunscreen = awesome protection, chemical-free, feels great

All Good Lips = non-greasy, subtle flavors

Overall, this healing kit is awesome for cycling or any other sort of outdoor activities and I would recommend it to everyone!
Not waxy. Not pasty. Only tasty. And, it works. Use it before bed, before hiking or skiing, before a date. Only great!
My husband recently had a knee replacement that left a gi-normous scar running over his left knee and down his leg. He started using Elemental Herbs' All Good Goop as soon as the incision closed and the scar has healed amazingly fast. And looks better than we ever thought it would in just 3 months. We've used this miracle goop for just about everything (dry skin, bug bites, rashes) but this is the best yet! Never stop making this!!
The Inn at Bath in Bath Maine loves EH Lip Balm!!
My cousin sent me some and it was good I started handing it out to guests and now everyone gets them when they leave. I hate all those little bottles of lotion and shampoo that get used once and left behind for me to deal with, so after Hurricane Katrina I sent my entire supply to New Orleans and switched to dispensers for product. The one exception is Elemental Herbs Lip Balm. I hand it to guests rather than leaving it in the room, and the true testament is that no one has ever left it behind!
It is a wonderful product. Thank-you EH!!
I have tried many different lip balms but stopped searching when my son introduced me to the lip balm from Elemental Herbs. No more cracks, chapped lips; it's absolutely fantastic!! I saw my brother-in-law put the SPF version on his nose last weekend before a bike ride. How versitale is that!!
Gretchen K., Dartmouth, MA
Having tried other lotions, sprays etc...to ward off the aches and pains from hours of downhill skiing, competitive tennis matches, hiking, or sailboat racing, NOTHING, AND WE MEAN NOTHING!!! has ever been as effective as Elemental Herbs: HERBAL COOL FAST PAIN RELIEF! We recommend it to all our friends. It goes in our pack everywhere, as they say..."DON'T LEAVE HOME WITHOUT IT." S. Felton, MA
LOVE LOVE LOVE all things Elemental
This is by far the best product to hit the market, ever! For real, from the ALL GOOD LIPS to the HERBAL COOL FAST PAIN RELIEF, this stuff REALLy works. The ALL GOOD GOOP is awesome for anything skin related. I convert my friends everyday and I know they and you will not be disappointed. BUY IT NOW! and never look back. Thanks Elemental, you guys ROCK!
Best Sun Screen for High Sierra's
Used the EH sunscreen on a weeklong backpack in High Sierra. NOT an ounce of sunburn. Can't say enough - organic and works - what else can one put on their body day after day?
The most consistent outdoor "Organic" products out there!
Elemental Herbs is the healing future ! From being rocked by the sun. Rocked by a freeride fall or rocked by any outdoor adventure Elemental herbs picks you right back up and gets you out there to get rocked again ! Feel the heal baby !
Sal
I can't say enough good things about this line. I have literally stopped using any other types of lip balm, sunscreen, or salves of any sort. I've been an All Good Goop and All Good Lips fanatic for years, and now these other newer products live up to the same incredible standard. I've tried everything else, and while there are tons of other ecologically responsible products out there, what I can say with certainty is that none of them *work* as well as these. Every one lives up to its promise and beyond. (For example, I was skeptical that an herbal pain relief spray would really perform - but it went way beyond my expectations, and really satisfied a badly aching back.)

Kudos to the people at Elemental Herbs for nailing it! I love this stuff!
I've used all of their products and they are fantastic. I took a huge spill on my bike a few years back and All Good Goop healed it right up in no time. Keep up the good work Elemental Herbs!
goop is great for all kinds of ills, bugbites, rashes, sunburn, lips, hand salve. i panic if I don't have any goop on hand in numerous locations--car, medicine cabinet, babe's changing table.
I have used these products for many years. So glad to see them available here! The Goop is my favorite...hands, cuts, dry skin; the lip stuff is exactly what it says...all good...with spf and all. The spray is soothing, even for deep cramps! These guys really walk the walk of being a socially and environmentally responsible company...order now and spread the word!
I have used these products and love them. The salve is incredibly good for so many things, from scrapes, insect bites, hang nails, cuts...you name it. I keep the lip protector available everywhere and there is nothing like the Herbal Cool for hurting muscles...legs, shoulders, and back. The sun product really works too.
All Good Goop is the healing salve of choice for me & my family - with three young children we have used the Goop for everything from bug bites to sunburns - it's the best for winter's cracked chapped fingers & summer's blistered lips - every medicine cabinet should hold the All Good Goop!
as an an avid mtber an more than full time farmer ,i use my body to the full extent and then a little more. herbal cool has helped me bring healing relief to my shoulder keeping me in the field longer and extra time on the bike . i would recommend this product to those who need the healing power of a GREAT PRODUCTMIKE