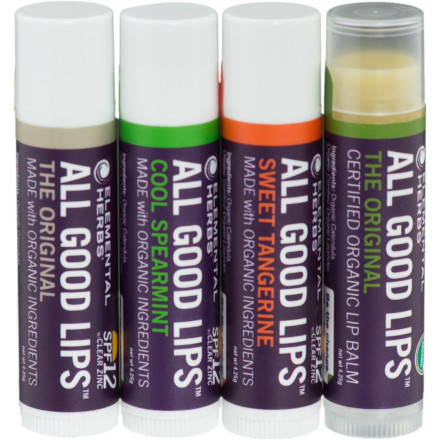 If you just can't decide which flavor (or unflavored variety) will be your favorite, or if you want to give the gift of healthy lips to your family, get the Elemental Herbs four-pack of All Good Lip Balm Sampler Set SPF 12.
Multiple certified USDA/NOP organic ingredients ensure you don't ingest harmful chemicals or toxins
Added essential oils in the Sweet Tangerine and Cool Spearmint help moisturize
Sweet Tangerine, Cool Spearmint, and one of the Original flavors feature SPF 12 sun-blocking and are oxybenzone-free
What do you think about this product?
Have questions about this product?
Favorite SPF lip balm, period
I first came across the elemental herbs lip balm in a little mountaineering shop in Lone Pine, CA. My lips were badly sun and wind burned from days of hiking in the snow and I was desperate for a balm with some protection. I'm super picky about what type of sunscreens I use, but their products contain ingredients that I will use, and they work so well. I used the that one stick of balm the rest of the summer, which I spent entirely outdoors, and it never failed me. They all smell great, it glides on nicely. I've have even used it for my nose and other parts of my face in a pinch. My favorite scent is the orignal.