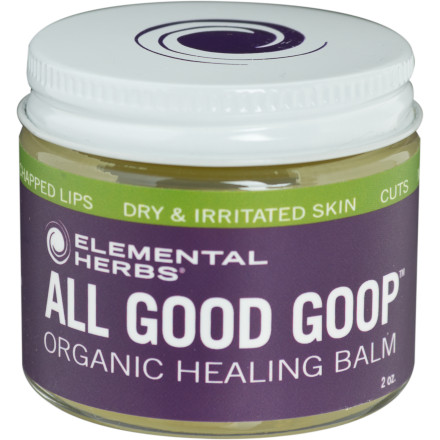 When lotions just can't heal your cut, cracked, and dry hands, trust the power of Elemental Herbs All Good Goop Healing Balm to sooth, heal, and nourish your skin.
Salve paste fills troublesome cracks and cuts and doesn't wear off as quickly as lotion
Multiple certified USDA/NOP organic ingredients ensure you don't introduce harmful chemicals or toxins into your body
What do you think about this product?
Have questions about this product?
I bought a jar of this balm for a two week surf vacation to Nicaragua. After day one on my board, I of course started getting the classic surf rash on my ribs. This goop soothed it and made it disappear by morning. From that point on I was a habitual gooper. Fast forward 4 days. Just as I became reliant on this miracle balm for everything, the worst thing imaginable happened. My camera bag and small day pack were stolen, and inside way this product. Needless to say, the most disappointing loss was my goop. From then on I had to toughen up and deal with any cut, rash or burn that came my way, and they were plentiful.



Bottom line: This product works. Hold it close and don't let it get stolen.
Not just good, it is GREAT
It really lives up to its claims. I have the driest skin on earth. It flakes, cracks and peels. This stuff works better than anything I have tried and the little jar lasts a long time since you use so little at a time. It goes on a bit greasy, but it soaks in quickly.
This is a great all around salve for cuts, scrapes, gobies, suburn, road rash, reef rash, etc etc. The smell is pretty nice, and it's all natural. Good stuff.