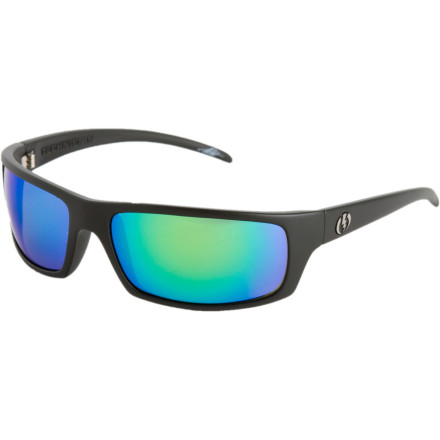 Detail Images

Community Images
Who cares if you can't set up your new computer, change a flat, or make toast without starting a small fire? The Electric Technician Sunglasses' color-fade frames and classic rectangular styling make you look mechanically adept and tech savvy.
Polycarbonate lenses are virtually shatter-resistant and provide 100% UV protection
Grylamid frames are strong and lightweight
Stainless steel hinges operate smoothly
I'm a runner, but not a goofy runner. I like to look cool when I run which is hard when I'm squinting or wearing silly running shades. These glasses hold my face, even while I'm running and sweating AND they are sick looking. Bottom line: Best shades I've ever owned. Highly recommend
The coolest sunglasses I have ever worn...enough said
Does anyone no the lens size for these...
Does anyone no the lens size for these pair of sunnies?? thanks
A.Whittington
I can't find exact dimensions, but if you go to this link: http://www.electricvisual.com/technical-information/
It will show you the definition of an 8-base frame and size category 1 (the lens and frame is approximately 1.5" tall)
Hope this helps a little!
The height of the frame is less important than the width of each lens, the width of the nose piece, and the overall width of the frame at the temples. Other brands like Smith list full sizing information so that folks with wide or narrow faces can select appropriate models.

Can Backcountry provide detailed sizing for the Technicians?
These glasses are awesome. They fit great, look great, and can take a beating. I had a pair until i lost them. I've dropped them many of times, sat on them, I even slammed them in the door of a chevy yukon and they were fine. They were slightly bent after the door slamming incident but I bent the arm right back and never had a problem, they didn't even have a scratch! I love these glasses and I'm buying a new pair.
Seriously fresh shades, stick tight to your face without squeezing it
These glasses are sweet! Definitely a good buy. They are relatively cheap and worth the money, and they are quite durable. The frames are slim and they are curved so they fit round your head without falling off. The lenses are very clear and don't scratch easily. Overall they are amazing, you should not be disappointed. Buy them. Now.
a buddy of mine had these and was tellin me how they were the best shades he ever had, got me a pair of the all black ones...........DAMN, so comfortable and look sweet as hell
i love these sunglasses! i have a small face and i can never find sunglasses that fit me too bad i lost them in the river :(
I got these glasses to mow the lawn. I needed something that wasn't too expensive, but could still get the job done.
Nice stuff! The black gloss rocks! Only one minor problem with shades: One of the hinges creaks
just a little bit,but most sunglasses do that
until they have been used a bit. They are very light and comfy. These,like most electric sunglasses,ROCK!!! (The ec/dc is awesome,too!)
I buy sunglasses all the time and these are nice. Great for super sunny days.
I have the Black Clear Fade/Grey ones. I like them a lot. They're comfortable enough to stay on for most the day without hurting my ears or cramping my nose. Plus they fit my face really well and have that cool, old school, leather jackets and greased hair look. I use them when riding my motorcycle and even under the helmet they stay pretty comfortable. Haven't had a chance to take them snowboarding yet, too cold, but I'm sure they'll live up to their reputation. Just got the BSGs with auto-tint, love 'em too.
Fast shipping, good response time and a free hat!
Love these glasses, old school feel. A good experience, would rather buy from here than eBay or other online auctions.