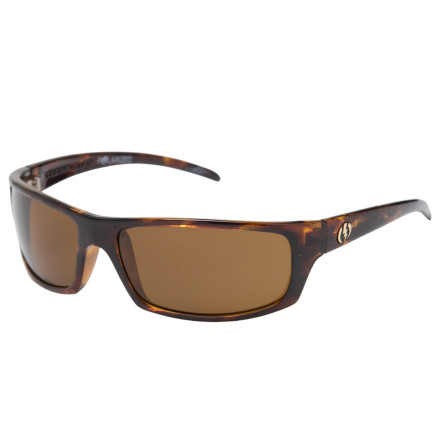 Detail Images
When something doesn't work, you call a technician. When your eyes are tired, sun-beaten, or otherwise busted, let the Electric Technician Polarized Sunglasses take care of your peepers.
love these sunglasses. love the style and the way they fit my face, as apposed to all of the massive sunglasses designs these days. great fit and love the polarized lenses. seem to be very durable so far.
what would be the advantages and disadvantages...
what would be the advantages and disadvantages of having the glass lens?
Well, this is polycarbonate lens, not glass- just want to get that straight. With glass, you just gain clarity, but it's a clarity you cannot gain with polycarbonate. Think of telescopes, binoculars,cameras etc... These do not use polycarbonate lenses. But with polycarbonate, you have something shatterproof and leight weight. Glass is heavy and it can shatter.
First non Oakleys and I love 'em!!
I've always been partial to polarized Oakely sunglasses, but these are sick!
Risky business,
and def not like that weak ass movie either. These glasses have grade A style, sex appeal, and character. All rapped up in one big ol' everything burrito. Recommended for peeps who can hold there own, people that can walk down the street with out stumbling over themselves. Perfect fit, for me that is. Very light, and sticks to your face like grandmas 1975 chanel rose pedal lipstick. So break out the maxed visa and add a lil more to it. It'll be fun!
These shades are so bomb. The poly polarized lenses are some of the nicest I have ever worn. I wear these while out on the water and the glare is completely eliminated.
these shades are AMAZING. The grey poly polarized is top notch. Everyone loves watching sports in HD...well these shades put your world into HD. I wear them everyday at work as an oceanfront guard. They reduce the glare from the sun so I can a solid eye on the sand bar. The weight of these glasses is also another HUGE selling point. I hate how shades feel heavy on your face and wrap around your head too tight giving you a headache. The Technicians are feather light on your face and not too tight either. If you're going to buy a pair of polarized shades...stop looking and grab these

Virginia Beach Lifesaving Service
est. 1930
AMAZING- get the glass polarized though!
I got these recently, the look and feel amazing. It's very much worth it to go for the glass polarized version even though it costs a bit more, the lenses are super clear, no altered perception, and the polarization works great. Worth the extra money for sure.
great glasses, great price, great shop
i have to say i was very surprised when i got my shipment in just three days, i live in Norway and every other online store i have used it takes at least a week. i was very happy with both my electric shades, one pair of technician and this pair both great glasses, technician with a sleek frame, sits firmly and never slides off, i used them at riding my bike trough a hedge and they was still on. the bsg was smaller than i tought but that was nice, fit my head real nice, dont fall of when you get sweat or move around. i am very happy both with this shop, in which are my new favorite place to shop online and i have just al ot of different sites, this one kicks ass(because of the high prices in Norway, and the states f#¤ked up economy, everything is a bargain, i just bought some pants on a trip in Florida on holliday for 100$, the same exact pair cost almost 800$ in Norway) the glasses are very solid, i have drop them several times with no problem, i lost my bsg pair when i was riding a bike in full speed, they just bounced of the asphalt a few times, i was shure that they were f%¤ked up but all that happened was a few schratces on the frame and nothing else. great glasses, i have a pair of anarchy glasses and they got destroyed on the first party, sucky glasses or maybe i am just to demanding. anyway happy new year and may your village idiot keep f*cking up your dollar so i can keep up shopping for less... i am lasy so i wrote a split review and copied it to both places, peace.
Excellent Fit - Spherically Challenged
These glasses are an excellent fit for anyone with a smaller face. They're very comfortable and super steezy. The only thing I don't like about these is that they seem to be spherically challenged when it comes to depth perception. I always feel like I'm taller than usual in them, and find myself getting dizzy when focusing on something directly under my feet....I don't know if its because of the shape of the lens or if its because they're polarized...
I have the chance to try on a lot of sunglasses and own several different pair from a lot of different brands. These glasses fit very well for my smaller face. They are very clear and are very good quality. They also work well for sporting activities and I have not had a problem with them slipping off when I get really sweaty.
So, I have always had a hard time fitting glasses as I have a large head with a smallish face. But these glasses are the first ones that fit perfectly! They are tight so they aren't falling off when I'm falling down a hill but they aren't too tight to where I can't think straight.