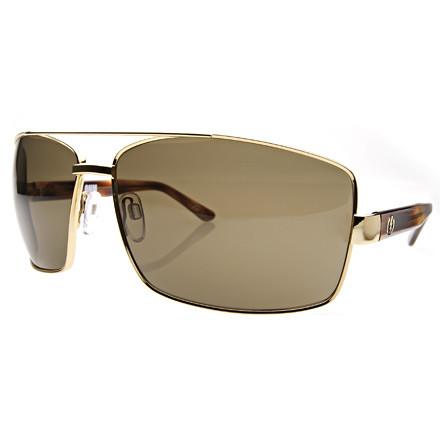 The Electric OHM Sunglasses protect your eyes from UVA and B demons, and they give you a retro look with their old school shape. Nothing says '70s vigilante like these large metal frames and faded lens tint. Electric made the lens from curved polycarbonate for clear and precise vision.
I bought these from Pac Sun almost two years ago and they're really my only sunglasses. I'm never one to spend more than $100 on sunglasses, but I was fed up with the cheap ones from department stores because nothing seemed to complement my face. I have a pretty long face, and rather thick head (I'm 6' 4" at like 235 lbs though my face isn't fat) and these fit my face very well.

I've never looked great in gold so I got them in the platinum / black / chrome color and they're great. The lenses on that particular pair have a minor green shade to them, hardly noticeable and they are highly reflective.

I love these glasses, they're the perfect modern aviator, especially for guys. They have a very square and masculine appearance. I always get compliments when I wear them out too.

The fact that they're polarized is a huge plus. However, I wish they would have come with a hardshell case that I could keep in my car. Also, I've dropped them a few times and scratched the lenses pretty well. I may try the Electric Vegus out for size if I ever get another nice pair of glasses. However, this will always be in the top of my list.
The OHM sunglasses may just be the coolest pair I've ever had...it's between those and the Electric BSG 2 sunglasses I have...these glasses are the perfect glasses for a sunny day at the beach or a top-down road trip down the highway...you'll always look good
These are my go to, daily wear, absolute favorite sunglasses. I have worn a pair of these for approximately 5 years now. I have a HUUGE head, and these fit perfectly. On a normal sized head, they look ostentatious, but for me and my 7 5/8 noggin these look classy and understated. I can honestly say I have owned every colorway in these (two pairs of the platinum chrome) and worn all of them until they broke/got lost/stolen. I will continue to wear these as my go to wire frames and I highly recommend them to anyone with a large/wide face.
WOW
better in real life...good fit!
I have the original pair of OHM sunglasses. They look sweet and have a good build to them. I always like to try on the new versions on Electric sunglasses and found the OHM IIs to have a weird gap at the bridge.
I never really liked aviator-type sunglasses, but I love these. I own 2 pair now. They look good and they fit great. They work just as well with work clothes as they do in shorts at a cookout. I'm a huge fan
you can't really tell from the angle of the picture they give you, but these things have a very long par across the nose that actually BOWS OUT away from the face. Looks awful and cheap, especially in gold.
I ALWAYS get compliments and everyone has to try them on and i like always having a mirror.
Love 'em, this is the third time I bought them, an ex stole one pair, and don't try to dive off of a boat with them on, they will not stay...