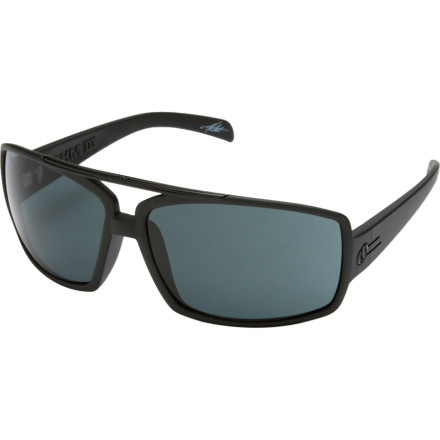 Detail Images
Dive-bar detailing meets need-for-speed styling with the Electric OHM III Sunglasses. A tad thicker than its sibling (the OHM II), the III provides a smooth, wrap-around shape that shields your peepers from UV rays even if the sun invades your eye space at 35,000 feet. A bold brow cap brings together the 8-base lenses that not only resist impact and scratching, but also use a careful blend of horizontal and vertical curvature to minimize distortion (always helpful for target-rich environments).
Not for fans of the OHM I
Picked these up in Gloss Black/Grey Polarized because I have the original metal frame OHM and they are one of my favorite pairs of sunglasses. Style wise these sunglasses took the large lenses of the OHM, but don't wrap and hug your face as much, so they just look kind of strange. Quality is great as always with Electric, but these just weren't for me.