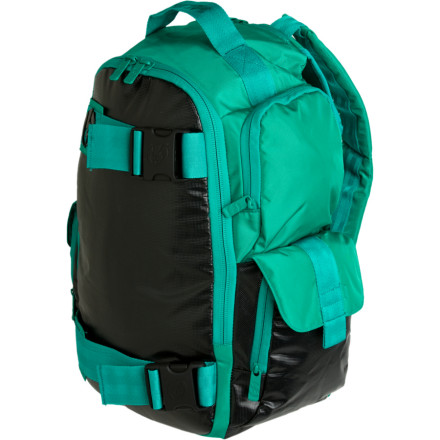 Detail Images
Keep your board handy wherever you go with the Electric Mass Sk8 Backpack. Seven compartments keep your stuff organized so you don't have to dig through a bunch of crap to find something. The padded laptop sleeve takes care of your computer, even if you have to chuck your pack over a fence while you're running from a security guard. Tarpaulin on the back and sides make the Mass Sk8 more durable, and a felt-lined sunglass pocket ensures that your shades don't get shredded.
I had my last backpack for about 6 years, expectations were pretty high. This bag goes way beyond the previous one. The laptop sleeve is huge, and really well padded. You barely even notice that you're carrying something hard. The side pockets are pretty decent size; great feature on them is that the flaps that cover the zippers are magnetic; no matter what they end up closed. The sunglasses pocket is insanely deep, you could probably fit at least 3 pairs in it. Solid pack, completely worth it even if you'd be paying full price.
Unanswered Question
waterproofing?
The green is awesome. Like the other review said, definitely more of a tealish green than your run-of-the-mill secondary green color. The black part is very heavy duty and is fiber reinforced plastic. It will grip a deck and hold on tight. I've also strapped a longboard to the pack with good results. The main compartment is very large and I like that the laptop sleeve is accessible from the out side with out opening the main compartment. This is also nice for air-travel security. Also is a nice pocket for quick storage of magazines. The straps are a nice width and don't cut into the shoulders. The main compartment has a huge zipper and can swallow practically anything. My only complaint is I wish the zippers on the bottom, side flap pockets had dual zippers. This way you could leave the very top unzipped and the leave the sides unzipped so you can just have the magnetic flap closing the top. The magnetic flap is basically cosmetic. Over all awesome and great looking backpack.
I love to stay organized when I'm out on the road. This pack makes it possible. It has all the pockets you could ever need plus a laptop sleeve. I love it for flying and I love the look of it too!
i got this backpack from whiskey militia for a hell of a deal. the green is more of a teal color and i love it! its pretty big, definitely holds a lot of stuff. laptop sleeve is great too.