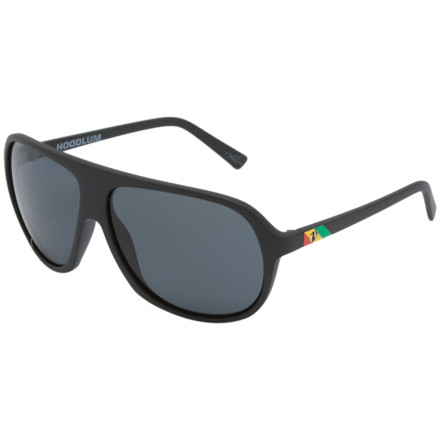 Detail Images

Community Images
Go from scroungy hooligan to pimpin' trouble-maker when you wear the Electric Hoodlum Sunglassess. Polycarbonate lenses completely block hooligan UV rays, and strong Grylamide frames won't break the first time some punk cheap shots you in the face.
Share your thoughts
What do you think of the
Electric
Hoodlum Sunglasses
? Share a...
I love these sunglasses so much I plan on buying the other colors eventually as well. Not only do they look good but they are so comfortable that I often forget I have them on!
these shades are easily my favorite pair that I own. matte black/green chrome is whats up.
I have them in black and another pair in bright red. I love them because they are light weight but stay on and are really comfortable. My boyfriend also loves them and I find them missing a lot because he is wearing them. They look good on either of us and we would both recommend them.
yo these shades r pretty baller..... big ups i got em in rasta fast shipping. thank you:)
What is the return policy regarding your...
What is the return policy regarding your sunglasses?
Unlimited, completely open. No reason to shop anywhere else.
How can I tell if these have dark lenses...
How can I tell if these have dark lenses for actually wearing outside? I've seen some at stores with lighter lenses worn mainly as fashion accessories.
My boyfriend bought these glasses and the lenses aren't really dark but def dark enough to wear on a sunny day.
Keep in mind, these are not polarized either so as far as protection from the sun goes these are not necessarily the greatest. They are very cool though.
My advice would be to get the same Hoodlum model, in the polarized version. I think Dogfunk.com should have'em. The are dark enough, and the polarization cuts out all glare when driving, around water, or any reflective surface. The style of the shades cant be matched, and the polarized lenses are awesome. I paid about 155 CDN for them.
hope that helps
Love the Gold chrome Lenses. I have been getting more compliments on these than any other glasses I have ever Owned also very comfortable. Great Buy!!!
I can make trouble now. These are just way too sick. Perfect size. This is love.
slides down nose too much
super slick shades but they fall down your nose all the time and is a pain in the ass. ive got a medium sized head and they just dont stay on.
These shades are way sick. They fit really well and fit a medium to large sized head. They are good sized, but not overly large