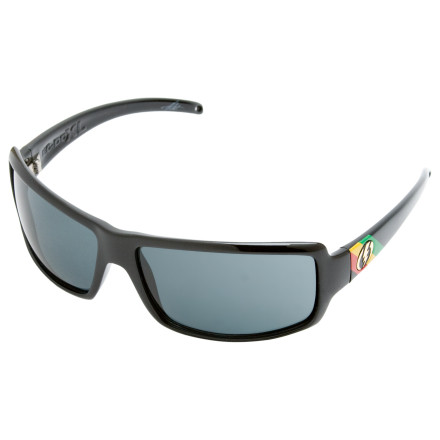 Detail Images
We have big news. Better sit down. You know those EC/DC Sunglasses you love so much? Well, Electric has taken these popular shades and made them even bigger. Check out the Electric EC/DC XL Sunglasses. That's right, the slightly wrapped shape, centered arms, and 80s-tastic style now come with oversized lenses and frames. And just like always, the high-quality construction includes three-barrel stainless steel hinges, 8-base grylamide frames, and polycarbonate lenses.
Great sunglasses! I personally like the ec/dc regular better than the ec/dc XL, but they are both quality!
second set of the XLs for me, lost the first in the river. awesome shades, good looks, solid design, great sun protection.
I got the EC-DC XL's in the Moss tweed/Grey for Christmas. They are awesome. Very comfortable and light so you barely notice you are wearing them. They have a Very sturdy frame and the lens hasn't scratched at all over the past few months.
The moss tweed/grey looks awesome in the sun too!
Buy these if you like sunglasses that have a big frame
Unanswered Question
Do these fit similar to the electric digit...
Do these fit similar to the electric digit model?
These are very sturdy sunglasses. Theyre made for a very large face/head, they provide lots of coverage, while still giving the "wrap around" appearance. I have the green twill ones, kind of wish i got the tortoise shells, but they're still sweet sunglasses and have help up really well!