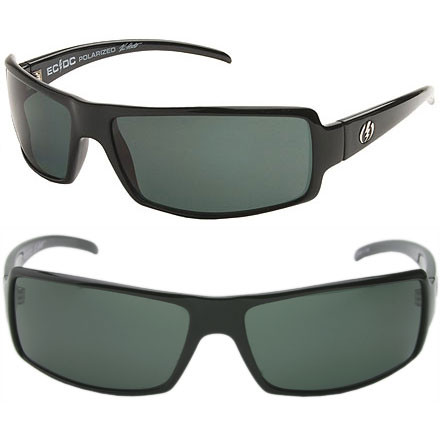 Detail Images
Electric's EC/DC Polarized Sunglasses are more than a pair of shades—they're a statement. Thin frames, large lenses, and centered arms pair hardcore style and '80s inspiration. Holding the EC/DC together are durable molded frames and polycarbonate lenses. The polarized lenses eliminate glare from stage lights, water, and road surfaces.
Lenses in these glasses seem really good. Great for driving, and they look cool.
high quality build, nice polarized lenses and a unique style that doesn't try too hard. what's not to love?
i've worn these for golf, fishing, and hiking (so far) and find they stay on nicely while still being comfortable.
really happy with them!
Unanswered Question
Are the frames for these glasses any...
Are the frames for these glasses any different with glass lenses than the polycarbonate lenses? I have a pair with the polycarbonate and love them except for the fact that the frames feel like they could break easily?
These are very good sunglasses, well built and durable. i just wish i didnt drop them in the parking lot. the block out the sun great and they look awesome.
nice glasses all in all, but the tint level is way too low to use in any sort of sunny weather. shame, they look nice and are light on your face...
I tried a bunch of glasses on to see which ones would fit my fat head. These were my top choice. I narrowed it down to the Smith Coopers, Oakley Gas Can, and the EC/DC. After Further review the EC/DCs were the top choice. I have had them for 2 years now. Very happy. Love the lenses. I have used them fly fishing in Montana and they were much clearer looking in the water than my friends Oakleys. He had a tiny bit darker lenses to be fair. Very sturdy frames and after 2 years no scratches on the lenses. I wear them pretty much everyday and rarely put them in their case so no scratches is a bonus.
They are smaller than I thought but still nice. They are so cool that I have to share them with my girlfriend. Bad luck.
The polarization coating comes of easily. My first pair it was a few months the second one a year.
Electric EC/DC - Sunglasses
The EC/DC Sunglasses are comfortable, stylish, and very useful being that they are polarized. The black fade also adds some individuality and uniqueness to help you stand out from the crowd. If you need a new pair of sunglasses look no further.
Write your question here...I was in Maui...
Write your question here...I was in Maui a few months ago and one of your beach sales guys showed me a pair of your sunglasses and he wrote the number 162 down on a piece of paper along with Kahuna HCL. Can you tell me to find them.

Dave
The Glass/Polarized EC DC is a great pair of sun glasses for a great price. The lens quality is comparable to Maui Jim sunglasses for $100 less with better styling (my opinion). The glasses wrap around your face nicely and do a great job on really sunny days. I use these glasses for everyday use, Fishing, Sailing and day to day work. One thing you will want to do is pick up a nice sunglasses cleaning rag because the bag is not a good substitute, unlike the Oakley bags. For $5 dollars you can pick up a cleaning solution at the sunglasses hut and get free refills for life, just a suggestion. You will enjoy these!
I'm on here to buy my third pair right now! these are great! everything everyone says here is the truth fo shezzy! there lightweight you dont even notice they are on your face. They are a great size and shape, easily worth the money you pay and then some. Im a frequent sunglasses and cellphone dropper, try as i might i just cant keep them in my hands, but both pairs i had never broke and even with scratches they looked great. I too have a medium male face, and constantly had people commenting them, and other gys asking me about them, or telling me they had a pair and got them jacked or lost lol. GET EM!! OH and this site rocks at shipment and delivery times!!
Personally, I just did not like these sunglasses. They were WAY too square and looked a bit too "RoboCop" for my taste. But this is coming from a girl who absolutely adores her aviators... Basically, the shape was just all wrong for MY face.
great-looking, lightweight, and comfortable
The polarized lenses are a big plus for clarity, the frames a snug fitting on me (medium sized male face) and stay close to the face. They don't slip down or anything so they're suitable for athletics; I use em for tennis. Highly recommended.
Seriously, I have owned several pairs of these (I'm very active...and you know what...shit happens and they break! or like more recently, someone swiped em!) And thats cause they look awesome!!

Very comfortable, great tint, lightweight...

Go with the "Black Amber Fade Gray Poly Polar"

You will not be disappointed.
Light and easy to wear, I lost one pair and just bought another.
I love these glasses! I usually have a hard time finding glasses that fit my face well as I have a narrow head and these look great. I love how big the lenses are as well, not too big but cover the peripheral pretty well. And they are super comfy, I don't even notice they are on very much. And they are very light for the quality. Love them!
EC/DC polarized glass lenses
these are flat out the best sunglasses i have ever owned. turns glare on car windows to a green and purple light that doesn't blind you. plus they're stylin
My 2nd pair of these (the 1st washed overboard at sea) and they are very nice. I would recommend spending a little more for the glass lenses as the polycarbonate scratches very easily.
This is my third pair! i have a huge problem loosing sunglasses on boating trips and i cant bring myself to look at any other pair than these bad mama jamas right here. Rock ON!