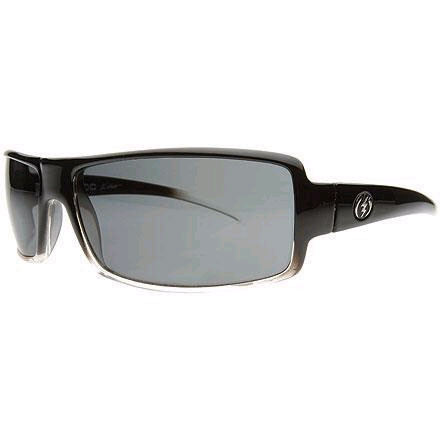 Detail Images
The '80s inspired square wrap of the Electric EC/DC Sunglasses give you that edgy, too-cool-for school that will make you want to wreck your best friend's dad's car, crash a parade, and maybe let your high school principal attacked by a dog.
SERIOUSLY A GREAT BUY
Gender:

Male

Familiarity:

I've used it once or twice and have initial impressions
Just got these in. I absolutely love them. i always have issues with sunglasses not fitting my weird shaped head, and the way they sit on my face. these fit perfect, and look great. only down side i would say is they feel real flimsy. but all good glasses usually do. i had a pair or pradas that cost 400 that were way flimsier than these. AGAIN, this is a great product. and a great price for a killer pair of glasses.....

Thank you backcountry!
ive had these for a few years now. ive beat the hell out of them and theyre still in great shape. there are a few reviews on here saying they chip and break easily, but im not sure thats all about. theyre def good quality, and super lightweight
decent style, sub par construction
I had 1 pair of electric, (the EC/DC's) and after the first week, you could notice chipping from the white off the frames, then they broke on me about 6 months later.... Great style though. These should be sold for $40-$60 at most
I've broke 3 pairs of these in the past. The thin plastic on the top of the lens just above the arms breaks very easily, 2 pairs broke just from sliding off my hat and hitting the countertop. I liked the size of these ones, but I had to upgrade to the EC/DC XL because they're a little beefier. These are dope shades, but be careful.
I got the tri-tone brown tweed and they are sick sunglasses. Whether your throwing your wake down or reppin a collar on the patio they are money. mad compliments all the time.
I bought these for my boyfriend for his birthday and he was stoked! He loves them and they fit his face perfect. I got him the Black and Clear frames. So they are a little OG but still different. They were the cheapest I could find at any store or online, Great Buy!!
So lets see, I demolished two pairs and lost one... My current pair has lasted me about a year with no problems. The look is classic, and for all you guys out there with the perfectly round somewhat large face, these are your shades. Theyre a pretty cool timeless OG style that throws a little chic in with a little badass and just seems to work.
it's always a gamble buying sunglasses online. hell, it's hard enough to buy them in a shop. everyone's face is a different, but everyone i've seen put these on has looked good in them. they aren't super-steezy, but they have a very simple and understated style that works well with most faces. they even look cool on my girlfriend. you really can't go wrong with the EC/DC. pick 'em up!
real nice, slim fit. not too big on your face. lightweight. the tri-tone brown tweed look sick!!
They fit my face perfect and very confertable
I bought these for my dad one year for his birthday. Big mistake... now every year he wants a new pair. He can never seem to find a pair of shades that fit his face, they always seem to look crooked. But, these are perfect. Now, I am never left wondering what to get him.
I have kind of a pin head so I've always had a hard time finding good sunglasses that won't look too wide or fall right off my face at every turn. That said, these fit great! They are cute and sporty but delicate - I have two pairs, and they do stretch out a little after a while, but they can easily be tightened back up. Recommended for sure!
I Just Bought One Pair in Panama (PTY)
I needed a sun glassess so, i went to a surf/outdoor sport store.... then i saw a Hoven (The One - Limited) glassess an i liked..so i take one pair for me...but, after 5 days, 1 lens drop off... so i returned it... and at this time... i took one EC / DC pair... it cost me a pretty peny.. but i think that i made a better choice this time... this sun glassess really do the job for me!... Huu rray!
These are killer shades. They're very comfortable and I wear them all the time. They are the first pair of electrics I've owned I'll probably buy Electrics again.
Nice style and solid construction. Have had them over a year and not a scratch on em. But i did get them from my ex so i hate them. But they are still dope so get them, but buy them for yourself.
Ive got a medium sized head and these fit fantastically. The BSG's are too big for my face but not these. I highly recommend them.
Electric EC/DC Sunglasses
These fit great and look great. They feel a little cheap, though. The left hinge squeaks every time I open or close them, and this is the second pair I've had of the same glasses with the same problem. They work, though.
These glasses are the coolest glasses I have owned. I bought a pair in Switzerland for 125 CHF = 100 USD last year. I recommend buying them here. Just don't sit on them they will break!!
these are the sickest glasses i own. if you are thinking about getting some stop looking at reviews and get some already.