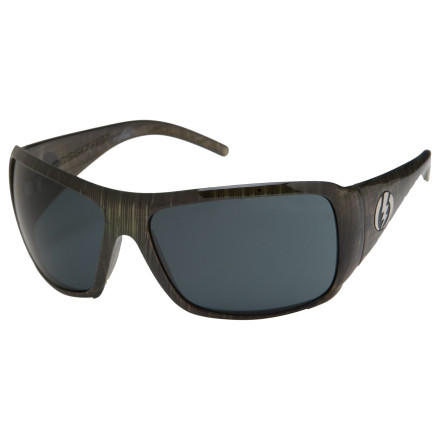 Detail Images
Push your limits with the Electric Crossover Sunglasses. With one of Electric's newest frame designs, these shades won't be found everywhere around town. Their large polycarbonate lenses give you phenomenal peripheral vision and offer total peeper protection. The Crossover Sunglasses' Grylamide frames deliver lightweight durability. Burly stainless steel hinges can handle whatever challenge you come across.
These things are great. I had the Ko's before and these were the perfect replacements. The matte black is awesome and I am always getting compliments!!

LoVe ThEm!!
I have had mine for about 3 years, and I'm about to buy another pair. I have the gloss black ones, and I adore them! I wear them the most out of my several pairs of sunglasses! They are amazing, and they even though they are guys glasses (I think...?) They fit my petite face perfectly!
Sexy like a box of Chocolate Covered Strawberries.
These sun blockers are supper light weight. You can Barely notice them when you are wearing them. I love mine. The Matte Black are the way to go!
got a pair and loved the tweed color very unique everyone loves them i have a big face and have trouble finding glasses that fit right and these do it for me.
i just wanted to say that i am serving overseas and this site is by far one of the fastest deliveries i have received. thank you for getting it too me in such a small amount of time. i will be using this site a lot in the near future. thank you.
Awesome glasses they block the sun like goggles. You can feel them on your cheeks when you smile.