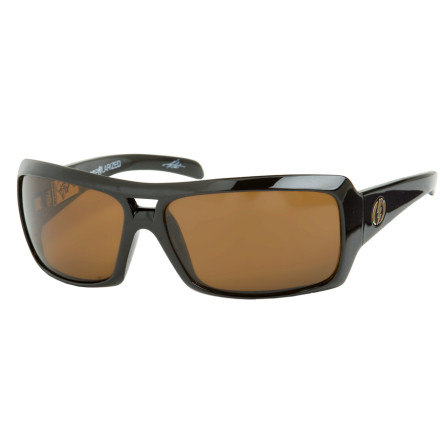 Detail Images
Bam Margera helped design these ultra-tough glasses to keep you looking good and to keep your eyes safe. Whether you are throwing down at the skate park or switching off the bathroom circuit breaker while your bro's taking a shower, the Elecric BSG Sunglasses keep your eyes safe from fists, snakes, dog poop and God-knows-what else might come flying at your face.
Share your thoughts
What do you think of the
Electric
BSG Sunglasses - Polarized
? Share a...
When are the BSG sunglasses going to come...
When are the BSG sunglasses going to come back on the market? Will the option of glass polorized lenses going to be available also?
is the lens 8 base ? what polarized level they got ? asap plz
Great Pair of Glasses, not for big heads though.
Awesome pair of sunglasses, little tight on very large heads like my own so I would not recommend them for someone with a big head because they are not a flexible pair of sunglasses and will cause discomfort when worn for long periods of time. Great looking pair of sunglasses would recommend them to anyone that they fit.
These Einsteins are TIGHT! They are a medium size for the larger faces (you know who you are). These shades will make any ugly face FLOSSY!
Made for Mayhem? Not Lying!
Hey Guys,
I have these in the Gloss Black/Grey Glass Polarized version. These are sick glasses. they fit super comfortably and look sick as well. The part that goes over your ear isn't super thick which is good if you wear them with a full-face mountain bike helmet like I do. The only thing with my pair, is that the Electric logo on the side looks like its falling off or just assembled wrong. Other than that they're perfect.
What are electric sunglasses and how are...
What are electric sunglasses and how are they powered?
Electric is just the brand name. No powering needed.
Best Answer
These hater blockers are powered by your steeze. The more steezey, the more power!

If you really want electric glasses, check out the Oakley Thumps...http://www.dogfunk.com/dogfunk/OAK1207/Oakley-Thump-Pro-1G-MP3-Sunglasses.html
Straight "Dog the Bounty Hunter" style!
Sturdy construction, great lenses, pimpin' steeze!! What more can I say?!?! Used to rock Smiths, but I got sick of the arms scratching the lenses when they are folded. That does not happen with these Electrics.
Get the polarized lenses...they will allow you to look at the world in a whole different light. You know those pictures of beaches with the ultra blue water...they took those with a polarizer. It cuts out the glare and makes everything look real real nice. The glasses are a great fit and look real nice too.
these glasses r the shizznit!! haha. seriously they r great, I love the polarized lenses and the fit is good, cause if u r doing anything active they won't fall off. plus they are sooo cool looking, very Hollywood in my opinion!!
i look good... i mean really good
these sunglasses make me look good i mean really good!!
I love these super duper comfy, great camp sandals!!
Great glasses. I own a few pairs of Electrics and they're solid. These are good for someone with a larger face. Also, it's worth the extra coin for the polarized lenses.
Electric BSG Polarized Sunglasses
My son, 14, got the glasses for Christmas and yes he is stoked about them. He absolutely loves them and feels and looks pretty coll wearing them. Great service and we will def shop on this site again. Thanks.