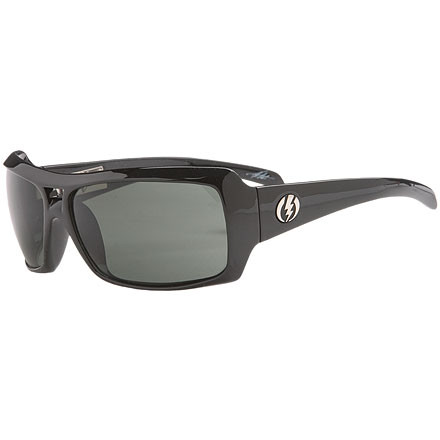 Detail Images

Community Images
The Electric BSG Sunglasses are the jackass equivalent of safety goggles. Made with thick Grylamide, these frames can take a prankster bashing. Funny-man and pro skater Bam Margera's signature specs, these sunglasses may get you into a little bit of trouble. So Bam teamed up with sunglasses-guru Kip Arnette to create a polycarbonate lens for these glasses that could hold up to the demands of foolish debauchery. The thick temples swing on heavy-metal hinges that Electric backed with its solid lightning bolt logo. So slip on these burly oversized sunglasses, hop in a shopping cart, and speed away from the rent-A-cops.
Share your thoughts
What do you think of the
Electric
BSG Sunglasses
? Share a...
Yes we can ship Electric to Canada. For a full list of restricted brands please click the Help Center link at the bottom of this page and then click the link to "What Brands Cannot Be Shipped Out Of The US?"
electric BSG black clear fade grey
the electric BSG black clear fade grey are awesome! really durable and stylish. they are functional and i wear them all the time!
oh, and Dogfunk is a beast! i recommend ordering from this place they are the best!!
peace
Afaq
What's the difference colour-wise between...
What's the difference colour-wise between black clear fade and gloss black? The pictures look the same.
black is completely black.

black clear fade starts as black at the top of the frame and fades to clear at the bottom.

if you click on the image of the black clear fade it will enlarge it and you can see the glasses a little better!
Finally a pair of shades!
There wasn't a single pair of sunglasses in this world that looked good on my medium-large round head. My friend had these and I tried them on to show him that no shades fit me right. Needless to say, these fit perfectly, and look AWESOME. I've had so many compliments in the few weeks I've had them. It is an investment I'll never regret. A definite buy.
i wonder why this sunglasses can get me in trouble if i wear it? is this harmful? but this were cool and it has the logo that seems to be the volt.
hey how comfortably do these specs work...
hey how comfortably do these specs work out for a guy who has a medium-large head. I wear a 7 5/8 hat size if that helps. i love the design im just trying to see if they'll fit my dome.
i wear the same size hat and they fit great. they are also pretty light weight
way to sporty looking. more for a smaller face.
I really enjoy these shades, their really good at keepin' the sun from sizzlin my eye balls and golly gee they look AWESOME. i get compliments all the time. totally worth it!
sweet sunglasses I have tried on most of electrics 08 collection and none were as sweet at these... DOGFUNK RULES
jack these apes in rasta and you'll look like an ape on crack!! even if u dont want that in your life, theyr still balla and make you feel lagit. even if your a tool with sps.
love the pair that i've had for almost two years....though as i am a shameful sunglass abuser they have a few minor scratches (but have held up amazingly considering all the drops and backpack death rides) and not wanting to let go of such awesome shades...i have a second pair that i ordered from here, safely boxed and waiting for the current pair to become unusuable...this could be a long wait. :)
How long does it take for shipping to...
How long does it take for shipping to Hawaii?
Hey, there are three shipping methods from you to choose from. You can choose UPS Overnight, UPS 2nd day air, or USPS Priority. UPS Overnight, as long as it is ordered before 12pm noon Mountain time the day before you will be ok. UPS 2nd day air will take 2 business days for delivery. And, USPS Priority mail will take between 3 - 5 business days. Please note that you will not receive a tracking number for the USPS Priority mail.
I was reluctant to buy these because of the whole Bam Margera thing (I think people are too hung up on him.) However, if he did have a hand in designing them, I say thanks because I love this style..as well as the new BSG II. Altogether I own 3 pairs of BSG and BSG II glasses. That doesn't even include my other Electric styles.
electric bsg swarovski, gradient lenses
Great glasses,fints my head perfectly, blocks unvanted sunlight great!
i love tha rasta flag on these
Cool glasses couldn't find them anywhere in the UK, these are great - Love it!
I am from argentina and arrived without any problem and the truth is that I love these glasses
this is my fifth electric pair and all has been great, uses them a lot and no one has been scratched or been destroyed. this pair is great for use on cloudy or at night(i wear sunglasses all the time) olso great in the day but as the lenses are graded they dont block the sunlight as a regular gray or brown lens. the bsg is fantastic for everyone who is active. i have glasses from meny other brand, as anarchy, oakley, spy, gucci, armani and nike and i have to be really careful with those, but with my electric i dont hacve to give a shit as they just dont break. one pair(charge) i lost down a flight of stairs, about 5 stories, bang into edges allthe way down, and all that happend was a scratch on the part over the ear, dont think, just buy elctric and you are set.
awesome glasses, awesome delivery time, awesome dollar price.
i have to say i was very surprised when i got my shipment in just three days, i live in Norway and every other online store i have used it takes at least a week. i was very happy with both my electric shades, one pair of technician and this pair both great glasses, technician with a sleek frame, sits firmly and never slides off, i used them at riding my bike trough a hedge and they was still on. the bsg was smaller than i tought but that was nice, fit my head real nice, dont fall of when you get sweat or move around. i am very happy both with this shop, in which are my new favorite place to shop online and i have just al ot of different sites, this one kicks ass(because of the high prices in Norway, and the states f#¤ked up economy, everything is a bargain, i just bought some pants on a trip in Florida on holliday for 100$, the same exact pair cost almost 800$ in Norway) the glasses are very solid, i have drop them several times with no problem, i lost my bsg pair when i was riding a bike in full speed, they just bounced of the asphalt a few times, i was shure that they were f%¤ked up but all that happened was a few schratces on the frame and nothing else. great glasses, i have a pair of anarchy glasses and they got destroyed on the first party, sucky glasses or maybe i am just to demanding. anyway happy new year and may your village idiot keep f*cking up your dollar so i can keep up shopping for less.