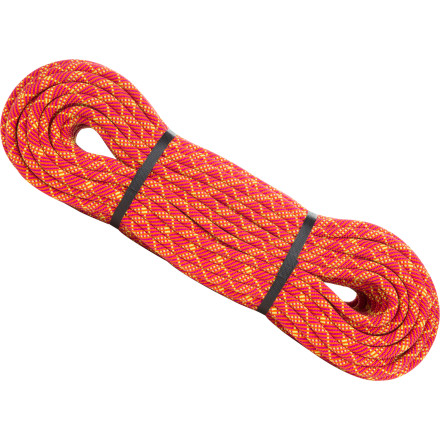 Community Images
The special construction of the Edelweiss Sharp ARC 10.5mm Climbing Rope allows it to pass UIAA sharp-edge test falls which cut most ropes like a shoelace. This rope should definitely be tied to your harness if you lob for a big whipper on sharp rock. In addition to this incredibly important design feature, the Sharp ARC Rope also includes a bi-color pattern sheath to help you quickly identify the middle of the rope. This saves tons of time in rappelling situations, It also lets you know when your climbing partner has reached the half-way point and can still lower safely to the ground.
I've used a variety of ropes over the years but keep coming back to Edelweiss for my "workhorse" ropes because of the construction, feel and bicolor patterns. The Sharp ARC is no exception. It passes the UIAA's sharp edge test (like my old Edelweiss Stratos), has a soft hand which knots well, and I like the bicolor pattern. Sure, at 10.5mm it's thicker and heavier than many other ropes out there, including many thinner and lighter Edelweiss ropes, but as mentioned it's a real workhorse and will take a lot of falls and abuse. Worth a look if you're on the market for this type of rope. BTW, I have no affiliation with Edelweiss, I'm just a climber who has used Edelweiss ropes for years and years.
-Tom Pierce
Super durable and smooth. Looks very nice, and ARC sheath pattern is indeed handy. Expensive, but nice. If you're going to spend money climbing, spend the money on a legit rope.
This is the best rope I have ever owned. Extremely durable, great handling, very light for a 10.5 rope and did I mention durable! I'm one of those sport climbers that thinks he can climb things a lot harder then what I can actually climb which in turns means falling a lot multiple times and beating up on the rope a ton. I also do a lot of multipitch climbing with this rope and I have a bad habit of creating tons or rope drag so this rope is always being run over sharp edges.
I have had this rope for a season now and its been great. This rope is very durable, it has been set up as a top rope for many climbs and the sheath has performed better than I would have expected. due to the sharp technology the rope is a bit stiff, so make sure you knots are tied well.
As far a a fall goes this rope is like landing on a rubber band, its super soft to fall on, evan from a 12 foot lead fall. Its evan fairly light weight for a 10.5mm. my 70 m sharp weighs just a bit more than my old PMI 50M 10.5m.
The only thing that could make this rope better is if it was available in a 9.6-9.8 mm version.
A bit rougher on the hands than other ropes I've used, but not enough to cause any problems. It is very thick, so it can be annoying to use with some belay devices, but that is no surprise at 10.5mm.

I'd recommend this rope to anyone, especially for top roping. It's a good, solid performer, especially for the price.
As others have noted, this rope doesn't have as nice a hand as a Mammut, but it also doesn't carry the price tag of one, either. It's a bomber rope for top-roping or leading on nasty sharp rock. Like most Edelweiss ropes, this one does seem to get fatter and fatter with use. Mine now feels somewhere between a 10.5 and an 11. This doesn't cause me any stress, but it can be a pain to use with certain belay devices. Over all, a top quality and confidence inspiring rope that makes a great first rope for beginners or work-horse rope for more experienced climbers who don't want to wreck up their $300 shoe lace redpoint rope.
This rope is the bomber. I will admit though that it does have a stiff hand. I would recommend it to anyone looking for a big wall, toproping, guide series rope that you can abuse without worry. Climb on.
This rope just went up the Pacific Ocean Wall on EL Cap. Terrific rope.
If I were a teacher and this rope was in my class, I'd pin a note to the rope's shirt for his mother that says "Dear Mrs. Rope, Rope is a pleasure to have in class. He holds a knot well and since he is 70 meters long, he can link whatever pitches you need to."
This rope is the best on the market for a good reason. Oh, and I don't agree that this rope feels like a cable. It is supple and tying knots with this sucka is quite delightful.
This rope has seen several walls and tons of toproping, I have jugged on it hauled with it and it shows only a little wear( some very very minor fraying on
the sheath) yes it feels like a cable in your hand but this baby wears better than steel and supprisingly enough it holds knots well and the catch for big whippers is still soft.Having tried several different ropes I wish I could have gotten over myself(It took along time for me to buy this rope because of
the feel)I could have saved a ton of money I wasted on the other ropes purchased.All in all this IS the rope to have on any climb ( walls or long trad)I swear I climb five grades higher knowing ths rope has my back..