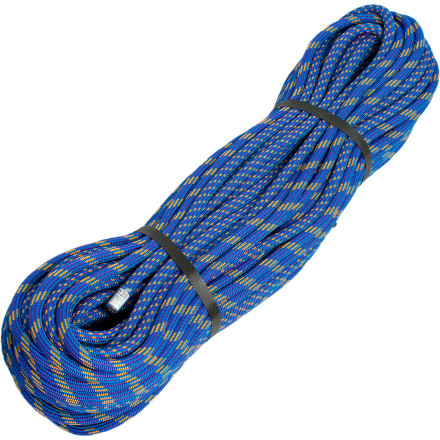 Community Images
If you're looking for a project cord with a reliable diameter and not a lot of extra weight, tie in to the Edelweiss Element II ARC 10.2mm Climbing Rope. An impact force rating of just 7.8 kN means you won't have to endure fighter jet g-forces if your project spits you off, and dynamic elongation of 37 percent further ensures a soft catch if you fall.
Perform 3 innovation improves flexibility and impact-force absorption, while decreasing weight
ARC (Advanced Rope Control) design features a bi-pattern for enhanced tracking during belaying or rappelling
HD Cover technology braids threads individually for a smoother surface and better friction management
Rough and tough
Familiarity:

I've put it through the wringer
I bought this rope on a sale because I was pressed for cash and needed a new rope. I am impressed. For a more economic rope that wont break your bank its lasted the test of time. It takes a while to break in and is stiff longer then I was expecting but rigidity isn't always a bad thing. every rope i have owned has had one thing i haven't liked about it because im a snob when it comes to my gear but i have to say that overall in the gym and on real rock, this rope is worth your money.
Great rope for the price
Familiarity:

I've used it several times
This is a great rope. I love the feel of the single pick sheath. The rope is fairly stiff which I have learned to appreciate. There is less rope drag and is less likely to wrap around rock features and get hung up. I assume it will soften up a bit and be what I call perfect. I could have purchased a cheaper rope but when you consider it is a 70 meter, bicolor, single pick rope, I consider this one of the better buys available. Plus I love the color.
Excellent Rope!
Familiarity:

I've put it through the wringer
The Element II is an excellent rope that is very tough and light. Mine has been my life line on sport to big alpine climbs. Handles great! In 20+ years of climbing I've never had a 10.2 that feeds as if it was much thinner. The sheath is very durable and ARC (bi-pattern) is always a plus. Core repels water like a charm. The elongation is perfect so catches are soft. Mine is a work horse and has been through a lot and still looks and works great.
Great rope, Good feel. Nice features.
Edelweiss makes great ropes. The Element II is a solid and versatile rope. relatively light compared to others. Good dynamic elongation provides a nice soft catch when peeling off a wall. This rope uses what Edelweiss calls Perform 3 technology (better flexibility and impact absorption with lower overall weight). The sheath is made by braiding individual threads instead of braiding in pairs. This equals a smoother feeling sheath with less tendency for drag and more resistance to abrasion wear. I've had this rope for only 2 seasons now; but, it seems to show true to claims in my experience. This is a good wearing rope.



The ARC (bi-pattern weave) is awesome. I always thought marking the center was easy and less expensive. However, marking the center only helps when you can see the center. A bi-pattern weave lets you know whether you have passed the center or not, even if you can't see the actual center point. Common tasks like setting up top rope or cleaning a climb are simplified by this feature. My next rope will have a bi-pattern weave again.



I've been using my Element for 2 years now mostly on sport routes leading and top roping. 10.2 with the HD sheath means this rope may be retired due to age before it wears out. Most rope companies work hard to provide a good product. The sheath feel and elongation ratings make this rope better than many. I would recommend this rope to anyone looking for a versatile workhorse rope that will see a lot of pitches.
Some errors in this listing
ARC means bi-color. So, there is no such thing as a "one color" ARC rope. So, when advertising the price of an ARC rope, it does not range from $199.9, since $199.9 is not for an ARC rope. This listing needs to be corrected.
Super-high Quality sheath, tightly woven to reduce wear, Ever-dry core lives up to its name and doesn't absorb water. This rope is a super workhorse fo leads and top-ropes. Cowboy up and go for quality!